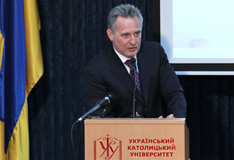 27 March 2012 Charity. Education. Ukrainian Catholic University
Dmitry Firtash Lectures Before Lviv Business School Community
Mr. Dmitry Firtash, Head of the Board of Directors of Group DF and President of the Federation of Employers of Ukraine delivered a lecture titles 'International Strategy of Systemic Companies: Building Future Business On Global Markets' at the Ukrainian Catholic University upon an invitation of the University's Lviv Business School. The businessman who has been one of the Ukrainian Catholic University's major patrons, has been maintaining close and friendly
ties with the educational institution
, and it is only logical that the meeting took place not in an academic lecture format but rather as a lively and interesting interactive exchange. Answering questions from the audience, Mr. Firtash shared his thoughts about the development of global markets for Ukrainian companies, international development strategies, described the structure and strategies for furthering different segments of his own business and spoke about his personal approaches to building business.
Mr. Firtash commented among other things: "There is no principal difference in approaching small, medium or large business – objectives are essentially the same and it is only the scale that matters. Self-limitations do not make sense. Most importantly, one has to realize what exactly he or she wants and is ready to commit the life to. Keeping learning and talking to the right people is of tremendous importance too. I am not embarrassed with working with specialists being more competent than I am – it is owing to such people that I grow stronger, I learn from communicating with them."
"Dmitry Firtash's lecture has been part of our program of meetings with Ukraine's eminent business owners and top managers pursued by our business school for a number of year," said Sofiya Opatska, the Business School Director. "Such gatherings are a normal practice at all business schools globally as they allow our students – who are business owners and managers themselves – to learn about successful business practices in Ukraine, hear the response of reputable managers to challenges faced by the modern economy.
NOTE
The Lviv Business School community brings together owners and top executives of Ukrainian companies seeking an MBA. The community pursues the goal of creating a favorable environment for a productive dialog and experience exchange between representatives of business, government and NGO community. The idea is to alloy experiences from different domains (culture, business) and institutions (commercial and non-for-profit). Throughout a year, about 12 events take place featuring different formats: master-classes, café-workshops, case studies and thematic meetings.