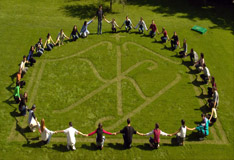 21 October 2011 Charity. Education. Ukrainian Catholic University
Philanthropy Traditions Reviving in Ukraine, Says Rector of Ukrainian Catholic University
Interviewed by
Den
daily, Borys Gudziak, Rector of the Ukrainian Catholic University (UCU) said he believes that philanthropy and patronship traditions are reviving and gaining momentum in Ukraine.
He explained that the development of UCU, in particular the construction of UCU campus in Lviv is being funded exclusively by private donors. According to him, one of the most generous sponsors of the campus construction is Dmitry Firtash who has pledged to support the project until its completion.
Rector is confident that education development is a very burning imperative for Ukraine. "Quite a few businesspeople send their children to learn abroad, even to secondary schools. This means they place no trust in the domestic educational system. This has to be rectified somehow as 14 to 24-year-old young people studying abroad are unlikely to return home. The country cannot afford losing its elite," said Borys Gudziak.
NOTE
UCU is the only Catholic university in the post-Soviet area while globally there are over 1350 Catholic colleges and universities. These higher education institutions offer curricula that go beyond the narrow confessional component. The first universities in Europe such as the Sorbonne in Paris, Charles in Prague, Jagiellonian in Krakow emerged in the environment of the Catholic Church.
UCU's new campus will be a complex of university buildings, including educational premises, a library, and a student dormitory. A noted architectural firm from the USA, Kallman, McKinnell & Wood, which has developed similar projects for more than 20 universities throughout the world, including leading American universities like Harvard, Yale, and Princeton, is developing the project.