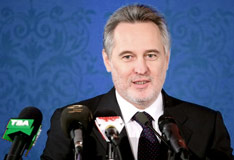 28 December 2012 Article in Kommentarii Weekly
Dmitry Firtash Unveils Plans For 2013
In 2013, I intend to continue pursuing the previously launched projects. The most critical challenge for me as for the Employers' Federation President is to secure the enhancement of the employers' role in the society and the state. The employment and jobs creation problem, especially in small and medium enterprise, must be taken care of in a systemic fashion. Top priority has to be attached to those jobs which will in the future evolve into new enterprises with new jobs. We possess a unique experience for Ukraine: successful and well-established entrepreneurs helped their peer-beginners by providing them with capital essential for their business startup and with preferential loans to carry their business forward. In 2012, we launched the investment fund 'Bukovyna' in Chernivtsi region and over as little as six months we progressed from the idea of the enterprise support fund institution all the way to the allocation of the first million hryvnias to seven business projects. It is critical that people be given a chance! Large business can support them! With this in mind, we will be promoting the foundation of such regional investment funds. Today, entrepreneurs-members of the Employers Federation of seven regions are discussing this idea. This project will provide a lot of people – predominantly young ones – with an opportunity to set up their own business. Our estimates suggest that as this project rolls out into the future, up to 30 thousand new jobs may be created within 5 years to come. At the FEU Congress, a series of concrete proposals for the government were articulated talking about the strengthening of the role of enterprises, especially small and medium ones. In particular, setting up regional economic development councils was proposed which would help employers jointly with local self-governments identify infrastructural development priorities. In addition to that, we are looking into establishing a workgroup to monitor foreign commodity markets development trends.
In 2012, we have accomplished quite a lot due to the Federation's involvement: lifting the groundlessly excessive railroad shipments tariffs, abolition of a decision on raising energy tariffs for companies, as well as initiation of review of terms and conditions of Ukraine's accession to the WTO.
We will continue to represent and protect interests of the corporate community while carrying forward this year's accomplishments. As far as businesses of Group DF are concerned, I plan to intensify their development pace. New production facilities construction of
Krymskiy TITAN
will commence in the Crimea in 2013. By the year 2016, this enterprise can make it to the global top-ten of titanium producers. Like before, the idea of forming a single titanium making company remains a priority agenda. If it is successfully achieved, Ukraine may well rank second or third in the world rating of titanium producing countries. Chemical companies of the group will continue pursuing the course towards the deeper processing and exploring new lines of business. We are observing an obvious trend of growth of the national demand for fertilizers and we project that in the coming five years, the level of soil fertilization will grade up to the average European volumes. The vibrant development of Ukraine's agribusiness and produce processing technologies will enable the substantial reinforcement of its position in the global market.
In 2013, I also intend to expand a list of charity programs allocating more funds to Ukrainian culture support projects, to
Preserve Your City
Program launched to support municipalities in which the group's enterprises are principal employers. The major proportion of these projects will be implemented by
FIRTASH Foundation
.