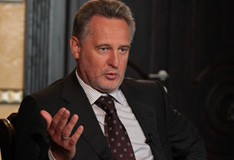 13 October 2016 Interview to RBK-Ukraine
Dmitry Firtash: Proving My Rightness and Having My Life Back Is a Matter of Principle For Me
RBK-Ukraine
: The media have been discussing two theories of the arson at Inter, the National Information Systems producing news programs for the station. According to one of them, the arson was pulled off by persons disagreeing with the pro-Russian stance of the broadcaster whereas the other one suggests that it was a self-arson. What information do you have?
Dmitry Firtash
: The self-arson theory is absolutely untrue. Only someone with morbid imagination might come up with such a hypothesis. There were people in the building, more than twenty staff members! And they could have burned alive. And if we are to speak about the editorial policy, the station doesn't carry any pro-Russian news, it's all about Ukrainian news. The fact of the matter is that people don't want to hear what news breaks on Inter report. They don't want to be responsible for the acts they've committed, for the policy they've been pursuing whereas this policy is exactly the one that leads the country to a collapse. That's what is going on. Therefore, I regard all those events as a sheer act of intimidation. Behind this intimidation there is a concrete political force. The names behind all those events are well known: starting from Avakov [Arsen Avakov – Minister of the Interiors of Ukraine] and all the way to the rest of the People's Front. We have been conducting our internal investigation and it is really critical for me to understand what exactly had happened. I want the persons involved in these acts to be adequately punished so that the people realize that there is a rule of law in this country. Are there questions to be asked to the broadcaster? There is the National Council for TV and Radio Broadcasting, there is court of justice out there. They are the ones to probe into the matter and we are accountable to them. Are they right? Am I right? Let the court decide, no question about it. But putting offices on fire is inadmissible.
RBK-Ukraine
: The President has instructed the Attorney General to take the matter under his personal control. Did you speak to Mr. Lutsenko?
Dmitry Firtash
: I didn't.
RBK-Ukraine
: You maintain that the broadcaster doesn't have any pro-Russian stance. In late August Arsen Avakov called on the State Security Service and the National Council for TV and Radio Broadcasting requesting an official reaction to the station's stance. What is behind the minister's activity? And what can be the implications for the station?
Dmitry Firtash
: We don't at all mind being audited and inspected. We are always open to this and we've been through it many times. Each broadcaster has an opinion and we do what we think is right. The journalists do the job in line with their professional duty and we will never lie or tell things the way somebody would like to see them told. The law doesn't require us to tell the audience that the People's Front is a great party. I don't influence the editorial policy, I don't mingle with it. And if somebody dislikes Inter's policy or the way we present the news, the answer is simple: don't watch it – the easiest thing to do. If Inter performed poorly rating-wise, if it didn't have its audience then the questions could have been asked. But inasmuch as ratings are high, it means that someone out there does want to see it. The people switching to Inter want to hear an alternative opinion rather than what is being imposed on them.
RBK-Ukraine
: Some social networks reported that in the TV version of the concert show on occasion of the Independence Day, whole fragments were deleted and Alexander Ponomarev said that his exclamation "Glory to Ukraine!" had been also cut out of the footage. Is that true?
Dmitry Firtash
: It's about a technical process when the show is being edited. Directors cut a lot of things, not only these. The concert was built on the premises of a certain ideology which the nation needs today: let's do away with divides, enough of humiliating each other! Our message was to show that we are worthy and capable people. The concert was intended to demonstrate that Ukrainians are strong and determined people living their lives irrespective of any outsiders' wishes and needs. My yelling "Glory to Ukraine!" does not at all mean that I love my country more passionately than others. And if I don't yell that, it doesn't mean that I am not working for this country's good. My perception of the love of homeland is different: it is more about what you do for the country than what you say. I am a man of action.
RBK-Ukraine
: Another big scandal over Inter was the disclosed correspondence of Maria Stoliarova, ex-editor of
Podrobnosti Nedeli
show, revealing her cooperation with the so-called Donetsk People's Republic. All this had to do with your station, not any other one.
Dmitry Firtash
: As you will understand, I am not involved in the day-to-day management of the station. I do not interfere with either the editorial policy or the news production.
RBK-Ukraine
: Have you received any proposals regarding the sale of Inter? As it was the case, for example, with Igor Kolomoisky when he was allegedly offered
Privatbank
's refinance debts forgiveness in exchange for a stake in Studio 1+1.
Dmitry Firtash
: I have never received these kinds of offers. I have never discussed the station sale with anyone. I don't have any plans to sell Inter, nor do I experience any pressure to the end of selling my share in Inter.
RBK-Ukraine
: How about pressure from the side of your partners? You are said to have a conflict with the other shareholder, Sergey Liovochkin. He has been pursuing his own agenda on Inter, you do your own…
Dmitry Firtash
: It is not so. Sergey is engaged in politics. He has his own political convictions and objectives and it doesn't make sense for me to get entangled with them. We do not have any conflict whatsoever.
RBK-Ukraine
: As the President has stated, there has been a certain chill-down in your relations with him recently. What is it due to? Do you think he has forgotten about the support you offered him in 2014, in times of his running for presidency?
Dmitry Firtash
: I have never rendered him any support, it is a gross misconception. I've made this point twenty times already! I just wanted that these speculations over the absence of legitimate power, legitimate parliament and president at that time be terminated. My key objective was to make sure that elections take place and the president come to office as soon as possible. That is what mattered to me rather than Poroshenko's victory at the elections.
RBK-Ukraine
: So, do you communicate with the president?
Dmitry Firtash
: No.
RBK-Ukraine
: Have you had any contacts since 2014?
Dmitry Firtash
: No, I haven't.
RBK-Ukraine
: Isn't it an illustration of some tense relations between you?
Dmitry Firtash
: What kind of relations can I have with him? I am doing my job, he does his. I am not involved in politics in any way and I don't do anything where we can intersect. I have been doing my business and my top priority is to make sure the business works on in these challenging times, that people receive their paychecks, that everything remains up and running, that we get out of the crisis as soon as possible – that's it!
RBK-Ukraine
: You have been based in Vienna for more than two years now. Who are you in touch with? A businessman of your caliber can't but have contacts with the power.
Dmitry Firtash
: I am being in touch with virtually all of Ukraine. Somebody being in one place away from his country doesn't mean that he or she doesn't care for this country. My head is at home. What matters is not where I am but what's going on in my head. In my head my home is Ukraine. Neither Vienna, nor London – it's Ukraine. My entire life story is an illustration of it. I've never had any other passports. I sincerely believe that at the sunset of my life I'll return to my native village where my mama still lives. I've been living with this attitude since the first day of my stay here and I do hope that it will all come true. And that is what I normally say to all the people I communicate with and you'll be surprised with the number of these people. So, my being away from my country does not matter at all.
RBK-Ukraine
: Boris Lozhkin, ex-Chief of the President's Staff said that you perhaps are the only oligarch he hadn't spoken to. Why is that?
Dmitry Firtash
: First of all, they are holding power. Second of all, I am being in a middle of a criminal case against me. Obviously, the people in the government would be quite reluctant to deal with someone the US has presented charges against, especially given that this government is being controlled by Americans. We have to admit that
Ukraine is being controlled from outside after all. Maybe not entirely but definitely in part. Corruption, embezzlement – this is something Americans clearly have nothing to do with. I am not concealing my views and even in my interviews to Americans I've argued that they control Ukraine.
RBK-Ukraine
: Now that we are on the foreign policy note: do you think that after the elections as Clinton or Trump step into the office the perception of Ukraine will be different?
Dmitry Firtash
: I don't think anything is going to happen. One president stepping off and another taking over will not in any way change the US policy towards Ukraine. I am certain though that this policy will change once Ukrainians start making decisions themselves.
RBK-Ukraine
: And the IMF is not needed either?
Dmitry Firtash
: This is a very disputable question. The IMF is needed but what for? In order to show that we are being reckoned with and that we are a good partner to work with. We need all the institutions that are recognized in the world, especially the ones which can be regarded as certain radars sending messages to investors and helping them make the right decision on whether or not a country is good to work with. As long as the IMF is active in a country it means that the country is okay and worth investing in it. That is how the IMF is needed. But! We don't need the IMF as a source of borrowings. We shouldn't be hiding behind the IMF and saying that it is the IMF that forces us to raise utility tariffs. This is not true. They tell us: "Come on guys, balance up your budget." And in 2015 I said to Yatseniuk (and he felt very offended with what I said): "You as a prime minister have two options: either you take up all the burden or you spread responsibility across the people." He chose the latter. Now, I've been watching the budget approval process. Metaphorically speaking, it's like everyone out there holding scissors, axes and knives ready to cut this budget pie. But I haven't seen a single politician who would come out and say to the prime minister: "We have no problem dividing the budget but you've got to tell us how you are going to fill it?" Before you divide something you want to make sure that this something is really available.
RBK-Ukraine
: The budget draft clearly spells out all the revenues. You don't seem to believe in them but it's a whole different story.
Dmitry Firtash
: What are you talking about? We've got companies shutting down on a daily basis. Literally every day. The
Antonov
concern has closed up aircraft production due to the components shortage. I can't see the promised happiness and the economic miracle. If I saw new plants commissioned today, tomorrow and the day after I could have said: "Yes, we are on the right track." But when I see plants being shut down while the government is planning revenues to the budget… How will these revenues be generated who will we collect them from?
RBK-Ukraine
: A year ago you referred to Yatseniuk as to "the first oligarch in the government". You also argued that while he was in office, no reforms were being pursued. Has the situation changed since Groisman took over?
Dmitry Firtash
: Unfortunately, all of our politicians live for the day. They want to be featured in newspapers and on TV, they want to be liked by people here and now. But none of them care to be inscribed in history. None of them think into the future. They have to care about filling gaps today – the situation is quite alarming. One can't overcome a crisis with attitudes like that, one is doomed to dying without creation efforts.
RBK-Ukraine
: But there is the President's government action program for the period until 2020.
Dmitry Firtash
: You'd better take a close look at this program into 2020. What will you see there? Sheer blah-blah-blah and even worse. It's about nothing. Let me speak for myself. What did we do when we at the Employers Federation started talking about building Ukraine? We invited the Academy of Sciences, the Federation, we involved experts from different countries including ex-prime ministers, ministers and internationally-acclaimed scholars. Then we picked the countries: Poland, Germany and all those with a similar development experience. Why did we do that? We invited their recommendations and opinion on how they visualize Ukraine's revival plan and on what priorities must be there. We put together Ukraine's Modernization Program, investing fortune into it and spending almost a year. I was being focused on it from dawn to dusk as I took it as my personal challenge. The time has passed, a new government comes along and they asked us to present our Program. We did, they reviewed it, everyone was happy with it. We thought to ourselves: "Has a miracle happened? We are being heard!" Anyway, after they've heard our presentation they ask us: "Can we make it happen by the end of the year?" "But the program is devised for the period until 2025!" "Then," they say, "we are not interested." For us, when we were launching this Program drafting, it was critical to have a clear vision of what we want to see in this country in 2025. We've examined all indices, the entire history of Ukraine, what was being produced, what was being exported and what key parameters should be our benchmarks. Then we agreed that it is the GDP that has to be our key indicator. You know why? Because a 5-percent growth rate in GDP is an indicator to judge on whether the country is dead or alive. If the GDP growth rate is below 5 percent it means that Ukraine has difficulty sustaining its military, educating kids, paying pensions – essentially difficulty in everything.
RBK-Ukraine
: But when the economy recessed pensions were still being paid. More than that, in our case it is not really in our favor to demonstrate more than a 4-percent growth rate: as per the debt restructuring agreement with the US, once the growth rate is above 4 percent, we will be required to immediately reimburse lenders' losses from debts write-off and restructuring.
Dmitry Firtash
: There were attempts to prove to me that Jaresko [Natalie Jaresko, ex-minister of finance] could be a prime minister. I do not know her. I know that she is an American and may be a great person, I don't want to sound offensive in any way, but the terms and conditions on which she restructured Ukraine's debt are illustrative. I don't want this kind of a prime minister. Maybe she did a great job for Americans by saving their money but what she did to us, Ukraine, is that she ripped us off. We've ended up in a debt yoke. A Ukrainian would have never signed such a restructuring arrangement – he or she would have been at least cautious to end up behind bars.
RBK-Ukraine
: It was not her sole decision though: there was the prime minister and the president too. Plus, the Parliament voted for it after all.
Dmitry Firtash
: Do you remember Biden's [Joe Biden, Vice-President of the USA] visit at the end of last year? Did you watch this circus show? Everybody lined up like a scout detachment and reported to Biden how they were going to behave as if he were a scout leader. Is there any pride in such a conduct? One sure should be mindful of who is who but this sort of self-humiliation…
RBK-Ukraine
: Could it be an act of sacrifice for the sake of the country's interests?
Dmitry Firtash
: What was the sacrifice? Except that it was the country that was sacrificed after this restructuring was signed and voted. Our great-grandchildren will be paying back but Yatseniuk couldn't care less. He is a man of no principles, he is no fighter. As far as I am concerned, a default should have been announced back then. What do we need the IMF's money for now? We've received a billion dollars' worth of a loan and a week later the National Bank will pay it back to Americans. What do we need this money for? What was Ukrainians' gain from it?
RBK-Ukraine
: Why does the West keep lending to us, why do they still believe us?
Dmitry Firtash
: They don't, they simply have no choice.
RBK-Ukraine
: Don't they? What do you mean? The financing program may be suspended: after all, we are not meeting all of the IMF benchmarks.
Dmitry Firtash
: Both you and me, like all of the Ukrainians, owe them money. Therefore, until we repay all the loans and until they pick us clean, they will be giving us money. This sounds cynical but that's true. Thus, we have to start thinking about ourselves instead of waiting for miracles to fall on us from outside. We have to roll up our sleeves and work on. I recall once having dinner with Poland's ex-prime minister Wlodzimierz Cimoszewycz and I was asking questions about how Poland managed to succeed with its reforms in 25 years overtaking Ukraine way ahead, was it really a miracle? They had made many mistakes. When the country was acceding the EU, way too many enterprises were shut down. Now they realize what a huge mistake it was and now they are working to restore their industry. I asked him how they had managed and he said this: "We had this choice: either we count on a miracle to happen or we get down to work. We just got down to work, we didn't sit back, we were moving ahead while you have been just talking for 25 years." Thus, I am a proponent of the get-to-work approach. No weeping and whining, no telling about your love of homeland, no wearing traditional costumes, but working!
RBK-Ukraine
: You said that Arseniy Yatseniuk was no fighter? Is Vladimir Groisman a fighter?
Dmitry Firtash
: Originally, I laid high expectations on Groisman. What do I see now? He is completely harnessed by the president, Poroshenko controls all the processes. Groisman understands what's going on. He is not a strategist, not a big player, he is a doer that can make some things happen. It's premature to make definitive conclusions – too little time has elapsed. I hate to stick labels on people. He has been listening to business people, talking to them. This is important. Yatseniuk would never meet with anyone.
RBK-Ukraine
: In mid-August the Constitutional Court of Austria declined the consideration of a claim where you demanded that the US-Austria agreement on extradition be found unconstitutional. What makes it unconstitutional and what arguments did the court move forward?
Dmitry Firtash
: I promise to tell you everything after the hearing of the court of appeal. We are preparing to the trial. We don't know when it's going to happen, the date has not been set but I guess it'll start some time in November.
RBK-Ukraine
: Is the decision going to be final: it's either extradition and an indictment for a 50-year term, or complete acquittal following which you may return home?
Dmitry Firtash
: The court of appeal is a final instance.
RBK-Ukraine: Can you discuss Yuliya Tymoshenko? Our sources at the presidential staff, for instance, told us several times that she had visited you in May. Are you getting along now? We've been seeing her on Inter's air, she was the first politician to publicly stand up in the station's defense after the fire…

Dmitry Firtash: She was not visiting me. Since 2014, since I've been here I have not had a single meeting with her, nor did I talk to her on the phone and didn't enter into any arrangements.

RBK-Ukraine: Is it fair to assume that you may provide financial support to her? She is said to prepare a series of protest actions against utility tariffs rise some time in the fall, trying to achieve re-elections to the Parliament. Her ratings are growing…

Dmitry Firtash: My attitude towards Tymoshenko is common knowledge. I've never concealed it before and nor will I now. I don't think that she is the right choice for Ukraine as a president. This has been my opinion and I am standing by it. Her appearance on Inter is a proof of the fact that I am not involved in any censorship.

RBK-Ukraine: What is the likelihood of early parliamentary elections? As it appears, both the Opposition Bloc uniting your political allies, and the Batkivshchyna party are quite interested in making it happen and have been using quite successful efforts to stir the situation up. When do you think it can happen?

Dmitry Firtash: It seems to me that the government is not interested in re-elections and they will do anything to prevent from them. Obviously, the opposition forces can see the government's weakness and see a window of opportunity which is why they will be pushing the re-elections agenda. I don't have any impact on the process but I think that re-elections may well be held.

RBK-Ukraine: But you do have an impact on putting in place new political projects. Do you support financially any party, like For Life party for instance?

Dmitry Firtash: No, I even have no idea about who is behind this party.

RBK-Ukraine: Last December you were planning to return to Ukraine. This was preceded by resonant statements including ones made by minister Avakov who said that you might be detained based on the US government's request. At that time he said that a subpoena was handed to you. How did it happen and what did the subpoena read?

Dmitry Firtash: It is an absolutely false statement. Nobody ever handed any subpoenas to me. They had hoped up until the last moment that I would be coming home. When they understood that I was ready to set off Americans started blowing on their heads and they raised all this fuss. What they ended up with was really ridiculous and disgraceful to the max. And remember that I am not yet done with all my priorities in Vienna, I still need to go through the appeal procedure. It is a matter of principle for me to win this case versus Americans. It is a matter of principle to prove my rightness and to have my life back. The life I used to have before.

RBK-Ukraine: Does it mean that while planning your trip to Ukraine you didn't expect law enforcers to react that way and to be ready to meet you at the airport?

Dmitry Firtash: This thought would never even cross my mind. My logic was simple: by that time I had been away from home for two years. I was the president of the Federation of Employers and for two years I was managing this huge organization by means of video-conferences. I was going to arrive with a straightforward goal to attend the FEU congress and thought that no one could prevent me from doing that. The date – December 2 – had been agreed long before.

RBK-Ukraine: Suppose they would have arrested you in Ukraine back then, would they have any charges to present to you? The National Police initiated a criminal proceeding probing into the National Bank's claim of 5 billion hryvnias' worth of the unrepaid refinancing loan issued to Nadra Bank against your personal guarantee. The money was allegedly expatriated via US banks and FBI officers were supposed to be part of the case. The Bank issue popped up some time before our interview and at this time it is already a question of illicit transfer of its assets.

Dmitry Firtash: Lies!

RBK-Ukraine: That is to say that all these cases involving assets seizure are nothing but a sham? During this year seizures of your assets were partly lifted but what pieces of property remain forfeited?

Dmitry Firtash: Of course we won all the cases! Do you remember when a journalist provoked the then-Attorney General Shokhin to answer the question about how he was going to meet Firtash if I come to Ukraine? He then said he would meet me with flowers.

RBK-Ukraine: And in your interview to us you responded to the Attorney General that you would arrive with champagne…

Dmitry Firtash: Right, I said I would bring champagne along. Then journalists inquired with the Ministry of the Interiors about the seized assets and they were told that the Ministry has no issues with me and no criminal cases involving me are being investigated.

RBK-Ukraine: Once the trial is over and provided the ruling is in your favor and an opportunity for you to return to Ukraine opens, will you return home?

Dmitry Firtash: If I win the case I sure will.

RBK-Ukraine: Notwithstanding all the threats from law enforcement agencies and a possibility of the last year's situation recurrence?

Dmitry Firtash: Let them fear me. I've been living with threats of being arrested since 1991 or even since 1989. I've seen all of them: mobsters, police, governments. At my age, I've seen small ones and big ones. I have grown used to them and developed immunity and calmness. I don't have any emotional reactions and I take their threats just as a piece of information, emotionlessly. If I didn't take them easy, I would have gone mad by now. But as I perceive any information just as a piece of information I just think how to react to that.

RBK-Ukraine: That is to say that you would return under any circumstances?

Dmitry Firtash: Absolutely!

RBK-Ukraine: After the last December's events you said that all this was just part of a massive campaign against you. What did you mean and was the rest of the campaign realized?

Dmitry Firtash: Even the Inter events are part of this campaign. It has never stopped over these two-plus years. The government thinks they can treat me like this but they will walk away just like others before them. Trust me, it won't last for life. We've lived with all sorts of politicians and it doesn't scare me at all.

RBK-Ukraine: What does scare you then?

Dmitry Firtash: What is happening in the country these days scares me.

RBK-Ukraine: How are your companies based in Russia-occupied territories operating? In the fall of 2015, the Cabinet imposed a temporary ban on the movement of cargos between Ukraine and temporarily occupied Crimea. How are you supplying materials to Krymskiy Titan plant? Some journalist investigations suggest that titano ferrites are being supplied with support from Ukraine's Sea Ports Administration overriding sanctions.

Dmitry Firtash: Number one: the law on Crimea has been passed and nobody canceled it. If they are unhappy with the law, let them revoke it. So far though the law is in effect. Yes, the freights were transported by railroad, then it was banned. But let me ask this: what is Crimea? Let the government make it clear: is it or isn't it part of Ukraine? Crimea was abandoned, bridges burned down. And how on Earth are we going to get this territory back? Number two: The Cabinet approves a resolution, the shipments are delivered by sea, no more railroad. The State Security Service comes along and starts telling us about sanctions and stuff. I am showing them the text of the law and tell them: cancel the law and I'll stop shipping, I won't breach the law. More so, I am receiving a Ukrainian certificate to titanium dioxide produced in Crimea if I am shipping my raw materials there. And this is written down in the law. I mean, we had a long fight and then at the end of the day I made a deal with traders shipping titano ferrite from Sri Lanka. Our deal was that I give them my titano ferrite in exchange for theirs and no more problems. Have I sold titano ferrite? I have. And it does not make it to my plant, it's being shipped to them, while I receive somebody else's material. In essence, it's about a barter operation though I incur logistics losses.

RBK-Ukraine: It means that it arrives by sea via Russian territory.

Dmitry Firtash: It does. But you can't enter Ukraine without crossing Russia's territory! There are border guards based right next to our plant and keep molesting us. And you can't do anything about it. We transport people from Kherson to work at the plant – 100 people from Kherson work there. These talks really make me laugh! Has there been a single job created in Kherson in the past two and a half years? While I've been driving 100 people from Kherson to Crimea to work and having fights with the Crimean government. Sometimes it gets to outright scandals. I have to send "regards" to Aksenov [Sergey Aksenov – self-nominated leader of the Republic of Crimea] because we meet with attempts to block our operation to force us to hire Crimeans. But I have people from Kherson living next door and having worked at this plant for years. They have no other income and they don't know where else they could earn up to $400 a month which makes them embark on the bus each morning. They've been living with it for two and a half years and I keep driving them back and forth. I am responsible for these people. For me, this is more important than where my titano ferrite comes from. I am a business man and I will find a thousand ways of how to get by. Yes, I have loads of problems and I suffer losses. For me a ton of titanium dioxide production is $40 more expensive because I had to turn down the railroad shipment costing $5 a ton and have to import somebody else's shipments at the price of $55.

RBK-Ukraine: What is going on with Stirol? Was it by any chance nationalized by the self-proclaimed republics leadership? Is it working?

Dmitry Firtash: No, it's halted. The military personnel left the premises, only some of them hang out in the maintenance area. You must realize what a plant is like. It's a city with its own life. Now we hear threats that the plant management will be dismissed and it really annoys me when I see all those kinds of speeches with our Ostchem logo in the background but you can't do anything about it. Now it looks that they retreat one by one and we are walking down the plant territory figuring our what's going on and verifying what's left available. For instance, all aluminum parts in the dining-room have torn out…

RBK-Ukraine: What's up in Severodonetsk?

Dmitry Firtash: On September 1, we launched Severodonetsk Azot using ammonia shipped from outside because we have been unable to receive electric power from the state for two years now: part of the supply lines cross the territories which Ukraine does not control and there is no way to come to terms. Therefore, ammonia to Severodonestk is being shipped from Cherkassy, from Russia from anywhere we can reach out. Ammonium nitrate is made from the shipped-in ammonia. At this time we are investing funds and are using every effort to commission at least one workshop in the new year. But we are maintaining the plant with about 6,000 people it employs.

The situation at Gorlovka Stirol is worse and its launch is complicated. I think that if we fail to launch it until frosts break out, then we won't launch it until the spring even if we have a gun against our heads. It is chemical production – a company won't heat up fast enough.

RBK-Ukraine: Last year, the Attorney General's Office attempted to revisit the Azot privatization results on the grounds that it had been acquired at an undervalued price. At what stage is this proceeding now?

Dmitry Firtash: I can't be blamed for it. Everything I bought I bought at a secondary market. Let them visit me and I will disclose all the names and amounts paid. I didn't privatize a single percent in Azot's stake, I can't have issues with it.

RBK-Ukraine: But you face a chance to acquire Odessa Port Plant (OPP) from the public ownership. Will you? Did you participate in the first bidding and will you in the second one?

Dmitry Firtash: OPP is a lucrative company.

RBK-Ukraine: The current situation over OPP, bidding disruption prior to which the Anticorruption Bureau initiated criminal cases against its Board, namely against Pereloma and Schurov – what is it all about? Igor Bilous, the State Property Fund (SPF) head keeps talking about problems with gas supplies to OPP, about negative market
conditions referring to Yara that has shut down one of its plants. Do you think it is an effort to drop the price? As a reminder: the starting price went down from $500 million to $150 million.

Dmitry Firtash: It's an open secret and Bilous told the truth. The market is really not at its best now, the market prices are way too low. These days all chemical productions suffer losses due to immensely low prices. The last year and especially this year have been a real disaster. In all honesty, even Russians with their gas prices are at a break-even point while many report losses, particularly the ones away from the border and closer to the North. Previously, we were afraid of their dumping which was massive due to low gas prices. About 70 percent of the cost of our products is the cost of gas. You will appreciate a difference between their price of $45-50 per thousand cubic meters and our $210-220, won't you? Am I in a position to compete? And this really creates a problem. But like I said: even with their gas prices, many barely break even while some incur losses. It should be clearly understood that the key input for any chemical production is gas. Unless you have sustainable supplies of cheap gas, the plant is worthless and no matter whether it's me or you who owns it. As long as gas costs $210, it's a loss-making operation.

RBK-Ukraine: But you, as an investor, can negotiate the price with whoever you wish, given your connections in the market…

Dmitry Firtash: I can and so what? I could bargain out some 20 dollars but not until the issue of gas and its price is finalized that the plant can make any profit.

RBK-Ukraine: Why do you need OPP then?

Dmitry Firtash: My situation is tougher: I've been working at this market. If I weren't and if I faced a dilemma of whether or not I should buy OPP, I wouldn't have gone for it today. But you have to be clear on my situation. I started off in gas business and then developed into its processing. Oblgazes, plants – it's not by accident. My key tool and input has always been gas. All enterprises were being acquired and the business architecture was being constructed with gas in the center. But I couldn't expect Tymoshenko to sign an agreement whereby gas would cost $450. Nor could I expect that the war would break out. Saying that OPP is vital today would not be fair because Gorlovka is way more important and it has its pipe too. I mean, on the one hand OPP is needed while it's not on the other hand. The only thing it affords for our business is an ability to control the outlet in Yuzhny while this hampers Russians' dumping.

RBK-Ukraine: Does it mean that for you, an ammonia pipeline is more interesting?

Dmitry Firtash: No. What is interesting is to see to it that Togliattiazot stops dumping. In Togliatti the gas price is $50 which is why they push the ammonia price down. They don't need railroad tank-cars, they use sea tankers: anything they sell generates margins. My estimate is that in 2016 Togliattiazot will earn around $600-700 million. Who really cares if ammonia costs $200 or $220? We, Ukrainians, can't be competitive under the circumstances: for me the cost of ammonia is $310. Let me tell you this story: Russians would approach me with an offer to decommission all ammonia production facilities in Ukraine which I have 12 in total and move the production to Russia. I was promised both the sites and gas at $50. I would have had superprofits! Togliatti would have been a piece of cake for me. But I asked: "what are the implications for Ukraine? In essence, we are talking about moving 4 plants out which entails recession in four regions." How about that? I would have made almost $200 on each ton but I don't do that. Because I live in Ukraine and it's my country and I won't do anything to harm it. But there are others out there who harm it. Those willing to open the market for Russian fertilizers at dumping prices and to earn on them keep yelling that I've been pegging and that agrarians incur losses from buying Ukrainian fertilizers. But they ignore the gas price in Ukraine and the cost-effectiveness that enterprises can afford. In real terms, Russian companies can't wait for our productions to stop: they will immediately gain control over the market and skyrocket the prices. Thus far they just dump prices to expand their market share but once they've reached their goal, the prices will be sky high.

RBK-Ukraine: You are referring to fertilizers prices?

Dmitry Firtash: Yes. Prices at the European market are nearly identical, plus-minus ten dollars. Perhaps, ours are even higher. But I want to remind you: when plants were halted last year due to Yatseniuk's actions, the cost of ammonium nitrate went up – a ton cost over 9 thousand hryvnias. Once we relaunched production however, the prices dropped to 5.4 thousand hryvnias.

RBK-Ukraine: Vladimir Groisman promised that duties would be levied on Russia's chemical products.

Dmitry Firtash: The prime minister keeps promising that he will do something. He has instructed Kubiv to take care of it and Kubiv listens carefully. But what he is going to do remains unclear. What really strikes me – Aeroflot, for instance, doesn't have flights to Ukraine while chemical production keeps coming in. I don't understand such an approach. Once sanctions have been imposed – go ahead and tie all loose ends. Yet, we keep lying that we don't import gas from Russia. Except that we do. I may disappoint you but we don't buy gas from Europe. It simply doesn't go anywhere and then comes back. The pressure in the pipe is the same across the board: gas was sitting there all the time. What does move though is files with documents. Why should we buy gas from Europe which is $80 more expensive? In Europe gas costs almost $140 per thousand cubic meters and Europeans are surprised with our cost, they can't understand our schemes. They keep asking me why we go on begging for money to pump gas in in order to pay $220-240 at the end of the day? Let me tell you how it works: it's just about kickbacks. One fine day all the truth will be revealed and it will be a huge problem. When people realize that utility tariffs for them were raised but it was part of the fraudulent plot, it will trigger a disaster. It is not being understood yet but each fruit ripens at its time. And this understanding will ripen at a really bad time for the government. We all want enterprises to work. If there is a way to buy gas at $140 from the Russian market, I'll go for it. It will just make me stronger while Russia doesn't care who to sell to at $140 – what matters to them is to see to it that Ukraine pays more than $200. Therefore, they sit back and enjoy.

RBK-Ukraine: Getting back to OPP acquisition. The sale price doesn't seem too good for the government. If we recall 2009, Nortima controlled by Igor Kolomoisky offered 600 million for it. But Yuliya Tymoshenko, the then-prime minister, thought it was too cheap. Now it appears that $150 million is the right price?

Dmitry Firtash: In 2012, my bid to the government was $1.25 billion and they declined. I will not refer to their reasons but obviously they were very keen to hold me in leash and to prohibit from buying the company. Before the parliamentary elections, a real nasty war was being waged. I had S.W.A.T raids visiting me every now and then. It was not made public but dissatisfaction was boiling by leaps and bounds. But I was still keen to pay for OPP and Yanukovych is aware of that. The money was sitting ready but he said no. He found a thousand reasons not to sell it and he didn't.

RBK-Ukraine: Why didn't you bid in 2009 then?

Dmitry Firtash: At that time the plant wasn't my priority. I had a court trial in Stockholm, there were other urgent things: I had to win another war [repayment of 11 billion cubic meters of gas illegally transferred by Naftogaz of Ukraine from RosUkrEnrgo].

RBK-Ukraine: You mean gas?

Dmitry Firtash: Exactly. We then decided that we couldn't fight on two fronts. In 2014, the new government came along. First they offered the company for $500 million but now the price dropped to $150.

RBK-Ukraine: Plus OPP's debt for gas owed to Ostchem. How much is the total by now?

Dmitry Firtash: $300 million which makes the total price of the company $450 million. And all in all, the question is not about the plant, it's about the country. Foreigners don't believe in Ukraine, they try to keep off as far as they can. They are frustrated and don't understand what is going to happen here and what the country is going to look
like. They see rampant corruption, somebody is being ripped off, somebody is raided, somebody is forced to pay taxes in advance and somebody is required to pay kickbacks to get VAT refunded. So, it's not a question of the plant but rather a question of lack of demand. Plus the market situation is tough but it will improve.

RBK-Ukraine: Maybe then it doesn't make sense to sell given this low demand and prices?

Dmitry Firtash: My opinion is that Ukraine shouldn't be selling this plant. Back in 2014-2015 when the pre-sale preparation was underway I said that some times are good for sale and some are bad. A good proprietor wouldn't sell now. You wouldn't want to sell your real estate costing peanuts now unless of course you desperately need cash. I believe that alternative sources of budget replenishment have to be looked for. These $150 or $200 million won't make any difference anyway. Why sell OPP then?

RBK-Ukraine: What is the real cost of this company? If you take the ammonia pipeline into concession?

Dmitry Firtash: A company costs as much as people are ready to pay for it. If the demand is there so is the cost, and the other way around. I can't say "it's expensive", nor can I say that there is an objective price. There is a market and demand that determine a price.

RBK-Ukraine: Who other than you and Igor Kolomoisky may be really interested in OPP?

Dmitry Firtash: I think that there is no real buyer, or should I say real Western buyer out there. I haven't seen them, know none of them. We know quite well everyone working at the same market with us, we are in contact. And I don't think they would go for OPP. Even though folks from the SPF keep telling us that there are investors, I don't buy it. They said same kind of things last time and I said there would be no bidders. They said that Yara would be there, I didn't believe. They said that Moroccans would be there but I have very close relations with Moroccans, all the way starting from the King. I've worked with them for years. By the way, they were talking me into building a plant in their country but we didn't come to terms. Anyway, Moroccans won't come. I therefore don't think there would be a lot of hype around it. It must one of the domestic investors.

RBK-Ukraine: Some media reported that after Yatseniuk's departure from the government, his influence on OPP is no longer there. Allegedly, only two forces of influence have left: the president's and yours.

Dmitry Firtash: We don't influence anyone.

RBK-Ukraine: According to media, the president's team at OPP is represented by people from Igor Kononenko's immediate entourage. You are said to enhance your influence by chasing the company into the debt pit.

Dmitry Firtash: Let me repeat myself: I do not influence the enterprise and moreover its debts. When I was accused of making up OPP's debts I said: "Why should I argue? I'll take the case to Stockholm in a civilized fashion." As an outcome they lost. I know our case was strong and OPP had no chance to challenge it. I used to help them with gas, their CEO asked me for help to avoid the plant's shut-down. The plant didn't repay its dues, its debt snowballed and they cheated me two more times. I was shipping gas in at an exchange rate of 8 hryvnias for a dollar and they would pay me back at 30 hryvnias. But gas is a hard currency commodity, I mean I ended up with the same amount of hryvnias but in fact I lost about $400 million. $300 million worth of the debt suspended plus an unrecoverable loss of $400 million. Just wrote it off in one day. So, like I said, I don't have any influence.

RBK-Ukraine: What additional investment will OPP require if the acquisition deal is done?

Dmitry Firtash: Nothing will be needed, it's in a good technical condition.

RBK-Ukraine: What other assets are interested in? The SPF offers Oblgazes, Zaporizhya Titanium and Magnesium Combine for sale…

Dmitry Firtash: Yes, I am interested in the titanium and magnesium compound. We own a 49-percent stake in it and we are dragging the plant on for so many years. Things aren't perfect there either but at least people work on and get their paychecks. It remains to be seen what price will be set on it, we can't figure it yet.

RBK-Ukraine: What price are you ready to pay for it?

Dmitry Firtash: I don't know. Today it's worth nothing.

RBK-Ukraine: Is it true that you are selling Parus business center in Kiev?

Dmitry Firtash: We have sold it already.

RBK-Ukraine: Let's now speak about you. Why did you leave the Federation of Employers? Is it an image issue – the Federation is said to be managed and controlled by a disfavored oligarch?

Dmitry Firtash: No, let me explain. When I joined the FEU in 2010, everyone thought that it would be a political launchpad rather a federation. But I said to employers that I wasn't interested in this stuff. Behind these doors you may be politicians with all sorts of parties but in here we are all employers and I don't care what political views you have. We consolidated three employers' organizations into one – the Federation, we had the Parliament approve the law on the social dialog whereby the Cabinet may not approve decisions without ourselves and the unions: all business-related issues must be agreed trilaterally. But these days it is not working. I made a decision to retire from the FEU presidency back in late 2014. But because we ended up subject to raider attacks, we took a firm stance and went to war. I had two offices: the FEU president and the Head of the Joint Representative Body (JRB) of the employers' party. The JRB incorporates three national organizations: Union of Employers Organizations of Ukraine, Confederation of Employers of Ukraine and the FEU. I only left the post of the FEU President remaining in the office of the JRB Head. I decided I would support the employers' movement because I think it's the right thing to do. And the country needs it. But the key objective for me today is different. The Federation is a non-governmental organization, it has its limitations. All we can do is to persuade and suggest. But we lack a tool for the implementation of our Modernization Plan. I am now busy with putting together my own fund as I see that the focus has to be on implementing specific projects. Here is what it is in practical terms: some time ago we set up Bukovina fund – a pilot project to fuel entrepreneurship development in Chernivtsi region. We invested 3 million hryvnias in it, the fund has been operative for 5 years now yielding good results. We created 500 jobs, supported a number of companies that had been close to going out of business and they literally lacked peanuts to survive. So, they got by, paid us back and started to expand, we've seen concrete results. Bukovina fund has been pursuing three agendas: operational business, startups and a business platform. We've invited lecturers to teach people not to fear responsibility and to create jobs. At this time we are creating a similar venture fund covering the whole country though. The second area is promoting social entrepreneurship. I want Ukrainians to start awakening. I want to show that it doesn't take being a president, a prime minister or an MP to make something happen in this country.

RBK-Ukraine: What budget of the fund are you looking at? When will it be launched?

Dmitry Firtash: I guess we'll be ready by the new year and I think that the budget will be quite big.

RBK-Ukraine: And yet our last question is about business again. I am still not quite clear on your vision of the future of your companies based in the occupied territory.

Dmitry Firtash: You are unclear but I for one am getting increasingly more clarity.

RBK-Ukraine: About what exactly?

Dmitry Firtash: About the fact that Russians are interested in returning Donbass in peace and quiet. They don't need it. It is just us who, for various reasons, are reluctant to get it back. It is in the government's interests to show that we are in war as otherwise they will neither win elections nor explain what exactly was going on. Do I believe in Ukraine? I do. If I didn't believe in this country – and this I've said many times – I wouldn't have done a thing. I would have sold out all of my assets and would have found a place to enjoy myself. But I am not interested in that. I need to go home.