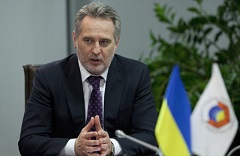 24 march 2014 Interview to Inter TV Channel
Dmitry Firtash: Business Should Lend Its Shoulder To the State
The President of the Federation of Employers of Ukraine, the Chairman of the Group DF Supervisory Council Dmitry Firtash in the exclusive interview to
Inter TV Channel
expressed his opinion about cooperation between business and government, unification of society and ways of economic crisis to be overcome.
Mr. Firtash, unstable situation in Ukraine immediately influences the economy of the country. As the President of the Federation of Employers of Ukraine what ways of economic situation stabilization do you see?
Today, unfortunately, we can't separate politics and economy. Both are important. And the Ukrainian economy will depend on steps made by the politicians.
I think that today one of the most significant moments has come, when ambitions should be left aside and everybody has to unite. Because now it is very important to get through all challenges facing the country. And I have no doubt that we will manage to do this.
Today, we don't have to look for any problems, to fight with each other. All society should unite to overcome the difficulties. Politics and business – big and small – have to join forces. If we find understanding inside the country, I sure, that we will solve economic problems too. These issues are connected.
Whether situation in Ukraine has influenced the work of Group DF enterprises?
I'm sure that the Group has been doing and will do everything to stabilize situation in the country. You know, that the Group employs more than hundred thousand workers. We operate in all regions of Ukraine – in the East, in the South and in Crimea. I believe that Group DF represents the situation happening in the country.
I'm confident, that we will do everything to pay salaries, to provide support that is supposed to be. The enterprises will continue to operate at full capacity. You know that our enterprises are the principal employers for many cities in which they are located. And life conditions in these cities depend on how enterprises operate. Today, as never before, we think about it, discuss emerging issues in order not to reduce social packages despite the difficult economic situation.
Do you plan to make adjustments to the investments programs?
All investment programs planned for 2014-2016 are carried out at a full-scale. Today we have a rather good position and we will further develop the enterprises.
Foreign investors are cautiously watching situation development in Ukraine. As a businessman aren't you beware of it?
My soul is in Ukraine, because my history as well as the history of my business shows that wherever I earned money I always spent it inside the country. I met with foreign bankers, discussed different issues with them, and they told me that Group DF was risking very much investing all funds in one country – in Ukraine. Now investment bankers remind: we cautioned that investing in one country was a wrong stance. I think in another way. I believe that we do right investing in Ukraine. Ukraine is not a risk for us. Ukraine is a country we live in. If for foreigners investing here is risky, for me there are no risks in Ukraine. We will do our best to make Ukraine powerful and strong state.
Does the rest of Ukrainian business have the same stance?
In the Federation of Employers of Ukraine we elaborate options on how we can help the budget, how we can support the army. We want to formulate a proposal and then forward it to the government.
I'm pretty sure that the business should lend its shoulder to the state. In the nearest future the Federation of Employers of Ukraine and I as the President of this organization will appeal to business. We need to support the budget, provide more resources to the country and give Ukraine a possibility to solve high-priority problems.