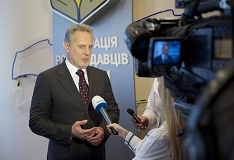 14 July 2014 Interview to Inter TV Channel
Dmitry Firtash: Business People Stand Ready to Uphold the Government
Interviewed by Inter TV Channel, Mr. Dmitry Firtash, President of the Federation of Employers of Ukraine and Head of the Board of DF Group of companies, articulated his vision of Donetsk region restoration program and told about talks with foreign states about attracting investments into Ukraine.
Q.: Mr. Firtash, one of the most talked-about issues this week focuses on Donetsk and Luhansk regions restoration. What needs to be done to achieve this and most importantly, what will be the cost of this effort? Journalists have been writing emotional stories, politicians have been making statements, so my question is: how grave is the problem and how big resources will be needed for the restoration?
A.: I am not sure there's anyone in the country today who could give an accurate estimate. It could be some preliminary guesses but in reality no one has comprehensive understanding as there's no damage report, no plan. After all, is there anybody who might present a master plan of Donbass restoration? However, we as the Federation of Employers of Ukraine are working on building such understanding, putting together an analysis, a report, a proposal of who would be involved in the project. This is what we are going to suggest to the Prime-minister, the government, the President. It just can't work in any other way. How can we operate with data when no one is sure about what is ahead of us? The hostilities are still underway, it's not over, only several municipalities have been liberated but combat operations are still on.
Q.: Can I ask you a direct question which is most likely so topical for our viewers? Clearly, the amounts required for Donbass reconstruction are immense, and it's obvious that the country doesn't have these amounts while the assistance the IFIs have pledged is a drop in the ocean. Are business people prepared to partake in the infrastructure reconstruction, are they ready to get involved in Donbass rebuilding? Are you, as a businessman, ready; is the Federation, as the organization you lead?
A.: The Federation of Employers stands ready to participate. We are ready to donate money. More so, not only are we ready to donate, we are also ready to be involved in the Donbass restoration program development. Without engaging entrepreneurs, without engaging the FEU, without engaging major employers I don't think the government will be able to cope with this challenge, they just have to rely on somebody. It's not just about giving or not giving money, what is important is that the mechanism does work at the end of the day.
Q.: What should be the first steps to begin with?
A.: The top priority is to reconstruct people's residences, supply them with water, gas, to rebuild the destroyed infrastructure, schools, nurseries, to put all the facilities in operation for people to understand that the normal life conditions are back.
Second of all, it's vital to get the people who had fled to come back. As they were leaving, they all were uncertain about whether or not they'd be able to return.
Q.: Is it at all worthwhile to return?
A.: They are indeed contemplating if it does make sense to come back. We have to offer them normal living conditions to motivate their return. Their first move was to flee and mind you – not on their own will. They had no choice so they decided they should leave. They can't be blamed for it but we do have to have them back – they are our fellow Ukrainians. It's not just about a territory, it's about the people living in it. And it is vital that these people are where they belong – in our country.
In parallel to that, we have to do our best to re-commission the enterprises and to re-employ the people as Donbass has always prided itself in its workforce. To achieve this, the infrastructure renovation is a must. Bridges have been demolished, roads destroyed. Even if you re-launch a company, you can't ship its products out of the facility. This is a major problem.
The third priority which in my view has to be addressed and which we are already working on: we are in negotiations with a number of European countries. We perfectly well understand that these days there are not great many of those willing to invest in our country. So we thought how we can inspire people's faith in the feasibility of investment, how we can encourage them to invest. And what we came up with was the following arrangement: the states from which these investments might originate would issue their guarantees to investors pledging that if, for whatever reason, the investments can't be withdrawn the governments of such states would reimburse 100 percent of what was invested.
Q.: In other words, is it real that potential investors would receive from their governments solid guarantees that their money will be safe and refundable?
A.: That's right, we are in negotiations now and I do believe that we'll accomplish them. The top objective now is to create new jobs. In massive production, like in machine building, for instance, in metallurgy, in chemical sector, in mining crating one job costs 600 thousand hryvnias while the same job in the SME will be about 40 thousand. It's quite a difference, isn't it? The FEU has been working towards putting in place a small and medium enterprise fund capitalized with some 500 million Euro. We have been working with the EBRD, with international private investors and even with governments. It has been proposed that some major Ukrainian investors join this fund. I am sure it could provide a very powerful impetus to small and medium business development in Ukraine.
Q.: How realistic is it to expect that this fund will be put in place in Donbass and that it will be capitalized with both Ukrainian and European contribution? Is it just an idea or have there been any practical developments?
A.: We are talking about practical developments and we have advanced quite successfully already. Business people stand ready to uphold the government. By this token, we, as entrepreneurs, are ready to donate money for the restoration works. The government has to decide upon its targets for investments and upon investment targets for business people, to see what the public sector will do and what will be the responsibility of the private sector. But as a whole we must act as a band led by one conductor to do our job right. This is my understanding.
Q.: Thank you for this discussion. I guess that the key message which I and the viewers watching us heard is that business people are committed to be involved and that the hope is obvious. We will cope, this way or another.
A.: I am sure that Ukraine faces great future, I most sincerely believe in it. I think that we will decently get by and many countries will watch us successfully meeting all our challenges.
Q.: Thank you.
A.: Thank you.