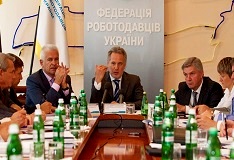 17 April 2016 Interview to Inter TV Channel
Dmitry Firtash: Businesspeople Stand Ready to Cooperate With the Cabinet
Dmitry Firtash: Business Community Expects the New Prime Minister to Resume Cooperation with Employers and Unions
Q.: Mr. Firtash, the main political news of the week has obviously been the formation of a new government and election of the new Prime Minister. The discussions had been quite tough and the nation was following this story for days. At the end of the day, politicians did manage to come to terms: Ukraine has got the new Prime Minister – Vladimir Groisman. What do businesspeople expect from the new government?
A.: First and foremost, I do think that the difference was ultimately made since it was really looking like a soap opera. Everyone was getting tired of it and this uncertainty over whether or not the Prime Minister would resign did aggravate the process. It was all about political bargaining after all. While being ready to dismiss the Premiere, they still argued that his performance had been good.
I believe that over 20-plus years we have not had a situation in which the Prime Minister and the government have been a perfect ivory tower and have been completely divorced from what's going on in the production sector, what's going on in business, what's going on in the country. This leads me to think that there's really nothing to assess, the situation is disastrous. As far as the new government is concerned, I hope that the new Prime Minister will have enough courage and stamina to meet the challenge and to make sure that the government becomes a well-knit band capably led by its conductor.
What does the Employers Federation look forward to? We expect the Prime Minister to resume the trilateral cooperation in which the government, unions and employers join forces. The previous government didn't do that, they completely left this job behind. And I think we are now facing the consequences of this attitude. It is all because the economy wasn't working as the government was isolated from the real sector.
Further, I think it is critical that the Prime Minister pay attention to the Program of the Modernization of Ukraine devised by employers and trade unions jointly with the Agency for the Modernization of Ukraine and involving the National Academy of Sciences. In my opinion, it is a very serious document. We have drawn up 26 steps which are essential to carry out. And we have already submitted for the parliament's review 5 laws which must be approved immediately to address today's challenges
Q.: You have just mentioned the modernization program and plan developed by the Federation of Employers of Ukraine and referred to the 26 steps you have suggested. What key aspects could be highlighted?
A.: Let's start with export. Clearly, hryvnia has plummeted lately. And that didn't happen for no reason, it happened because export isn't working. And it is only obvious for us that in order to reanimate export, the economy must get back to work. And unless export is reactivated, no economic rehabilitation should be expected.
Signing the EU Association Agreement was a great accomplishment. But let's look at the quotas we ended up with. Consider this: the country producing about 60 million tons of grains has been granted a quota of as little as 6 thousand tons of flour – this is ridiculous! It shouldn't happen! I therefore believe that it should be one of the key priorities to work on to increase the production and to obtain higher quotas.
In order to work with the EU and to increase your gains, you have to be able to lobby yourself and to carry your message through. And that is true not only with the EU. All the bans that were imposed in relation to Russia and the Customs Union need to be lifted. I have always maintained that both parts of the market are vital for us. I mean, we have to revisit our bans, to do away with political ambitions and to focus on what needs to be done to get the economy back to work.
Today many Ukrainians are no longer waiting for the country to integrate with the EU, they are doing it on their own. In other words they simply migrate to the EU countries. And the latest tendency shows the prevailing outflow of young people with higher education and good foreign language proficiency, specialists in this or that area. How can you stop them and convince them that Ukraine offers opportunities?
It is a huge problem because those who are leaving Ukraine are exactly the ones who could have worked for the country, who were supporting it for 20 years, who had small and medium businesses. Leaving the country are those who have some money and who can meet with demand somewhere in Europe.
It is one of the things that we as the Federation of Employers will be discussing with the government and will be looking to stop this outflow. And in order to discourage people from leaving you want to do one simple thing: you want to inspire certainty in Ukraine's tomorrow. Unless we do it, unless we tell the people that the country has future, we won't keep them from leaving.
Q.: You spoke about the modernization program developed by the FEU and about the 26 steps that must be implemented. Suppose they have been implemented. How soon will their effects come out? How soon can the lives of ordinary Ukrainians change?
A.: I think that we can see the effects as soon as before the end of this year. What will they materialize in? They will materialize in the number of jobs that will be created. They will materialize in wages. They will materialize in pensions rise. It's not just a cheap talk. It is a sequence of well-thought steps with projected effects that bring about a rise in each respective area: the social sphere, education, budget replenishment and the economy growth in general for our program speaks of a specific index – a 5-percent growth of the GDP. It is a very important indicator.
Q.: Have you addressed the government yet?
A.: We have made a number of statements, we have articulated the priority tasks that need to be solved. They are all posted on the FEU website. We have addressed the Prime Minister. I hope that it will take a few days, maybe a week for the Premiere to get his hand in his office and then we'll see what his steps will be: will or won't he work, will or won't he hear us.