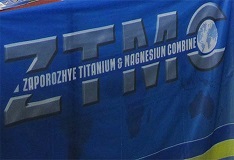 24 March 2016 Chemical sector.
ZTMC Enters the China's Market of Aerospace Products
ZTMC LLC, being a part of Dmitry Firtash's Group DF titanium business, passed the audit of the BAOTi specialists, who confirmed that the titanium sponge produced at ZTMC can be used without restrictions in the production process of all applications, including aerospace manufacturing.
The plant has received this status after passing a special complex audit, conducted by BAOTi experts. BAOTi company (Baoji Titanium Industry Co., Ltd.) is a global player in the global titanium market. The company is ranked second in the world and first in China in terms of volume of titanium products output and is a direct supplier and contractor to the companies, such as Boeing, Airbus, Bombardier, Goodrich, Rolls-Royce, AUBERT&Duval, OTTO FUCHS, SNECMA.
"We intend to sell our products to the world's largest suppliers, so we plan to continue improving the standards of our work", Vladimir Sivak, director of ZTMC said.
The program of ZTMC aerospace market penetration was developed in 2013 after the Tolexis Trading Limited company (a part of Group DF) won the competition on the selection of non-state participants of ZTMC LLC in the end of 2012 and received 49% in the authorized capital of the enterprise in 2013. According to the agreement with the State Property Fund, the Tolexis Trading Limited company invested $110 million in the development of the company. Thus, ZTMC has received the financial support to implement the strategic plans, including the plans regarding the entering new markets of aerospace products.
According to Group DF's estimations, the global market of titanium products consumes 160-170 K tons of titanium sponge per year and is estimated at $1.5-2 billion.
As part of the program of aerospace market penetration, ZTMC has already invested UAH 19.5 million for the special project on the construction of an industrial complex for the titanium sponge blending. This allowed the company to obtain the titanium sponge of a higher quality.