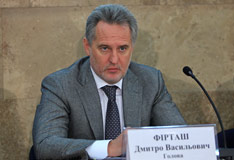 26/06/2012 26 June 2012 Federation of Employers of Ukraine Education FEU
Youth Unemployment to Shrink Due to Securing Balance Between Education and Labor Market
Mr. Dmitry Firtash, President of the Federation of Employers of Ukraine is sure that orienting the education system towards real needs of Ukraine's economy will help dramatically reduce the youth unemployment.
"What we see in Ukraine is a surplus of young specialists trained in managerial and humanitarian specialties in contrast to the shortage of engineers and technologists sustaining industrial facilities' operation. For this reason, each fifth university graduate is unable to find a job. Therefore, the sooner Ukraine modifies its vocational training system, the sooner the youth unemployment will be minimized," stressed Dmitry Firtash.
The Federation of Employers of Ukraine has completed a research proving that Ukraine's economy features the most burning demand for engineering and technical specialists: designers, agronomists, agro-engineers, instruments operators, mechanics, turners, plumbers and welders.
Five years from now, by 2017, the list of most wanted occupations will include construction workers, industrial computer setters, gas pipeline operators, I&C engineers and nurses, predicts the FEU with reference to an expert survey it had conducted among owners and executives of industrial enterprises being the FEU members.
The polled experts noted that the education system fails to meet the economy's real sector's requirement in qualified personnel. Remedying the problem of specialists shortage necessitates the development of a comprehensive industry development planning and vocational training system.
The FEU lays an emphasis on the absolute priority of promoting engineering and technical occupations at a high school level, as well as on improving the education quality and increasing the volume of time committed to practical exercise.
According to the FEU President, Ukrainian universities' graduates' skills and knowledge fail to meet modern requirements of industrial production.
"Ukrainian vocational schools and colleges lack labs, equipment, textbooks. And young folks cannot be blamed for their underqualification," stressed Mr. Firtash.
The FEU President believes that the situation may be rectified if employers support the young people – at least by offering them an opportunity of placement at their enterprises.
"We don't mind students' placement at companies being part of our group and we are prepared to pay wages to them during their placement period. However, the holders of degrees from Ukrainian universities do not meet the professional criteria of modern production facilities," says Mr. Firtash.
The unemployment rate among young people aged between 15 and 24 has reached 20 % now which is a very worrying statistics given that the unemployment across the board in Ukraine calculated as per the ILO methodology equals 7.8 %.
NOTE:
The Federation of Employers of Ukraine consists of over 8.5 enterprises collectively employing about 5 million workers and generating approximately 70 % of the national GDP.