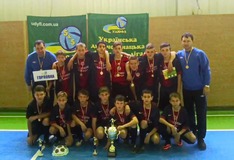 04 December 2013 Sport. Gorlovka
Young Players From Gorlovka Win Ukrainian Futsal Cup
Football players from Gorlovka team 'STIROL-OSh #2" have won the Ukrainian Open Futsal Cup.
The competitions were held in Rubezhnoye town in Lugansk region. The tournament was attended by seven teams, two of which were from the Russian Federation. Young Gorlovka players won all eight matches. Thus, the team has won the championship title for the third year in a row.
The participation of the team "STIROL-OSh #2" in the competition was traditionally supported be the OSTCHEM holding owned by Dmitry Firtash.
Young Gorlovka sportsmen are multiple champions of Ukraine. In addition, the STIROL players won international competitions in Russia and Spain. The coach of the team Nikolay Krykun noted that STIROL players were the four-time winners of the Cup of Ukraine, proving that there were no equal to them in our country.
"Our guys have once again proved their superiority over rivals. This is an accomplishment not only of the team and the club staff, but sponsors, to whom, on behalf of all the students, parents, and fans, I would like to express my gratitude", said the coach of young champions Nikolay Krykun.
According to the regulations of the tournament winner was determined by the results of two stages of the competition. In the group stage of the tournament young sportsmen easily beat their rivals. Gorlovka team won all six matches, scoring 30 goals and conceding just 5. Taking first place in the group, the players of Gorlovka reached the final stage of the tournament, where they met with School №1 team. And in this game STIROL players confidently won 5-0. During the main match of the tournament Gorlovka team was losing 1:2 in the first half, in the second half they managed to turn the tide of the match in their favor. Scoring 7 and conceding 3 goals STIROL team won 8:5.
In addition to the team triumph, of STIROL players managed to win individual awards: Ukrainian Cup top scorer with 16 goals became STIROL player Maxim Zavgorodniy and title of the best player won Nikita Borodchenko from Gorlovka.