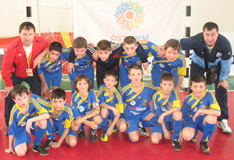 10 April 2012 Gorlovka. Sport
Young Futsal Players From Gorlovka Win International Tournament
Champions of Ukraine and National Cup winners, a futsal U12 team from Gorlovka 'STIROL-OSh #47" have won a prestigious international tournament in Moscow – The Fair Play Cup. The competition brought together 8 teams from 7 countries: Russia hosting the tournament, Ukraine, Belarus, Kazakhstan, Tajikistan, Armenia and Azerbaijan. The Ukrainian team's participation in the competition was sponsored by OSTCHEM holding owned by Dmitry Firtash.
At a group stage, STIROL boys spectacularly easily outplayed 'Borisov' form Belarus (14:0), then won 5:3 in a tough game with Russia's 'Zorkiy' ultimately beating Armenian 'Ararat' (7:3). The semi-final against Kazakhstani 'Kairat' was a tense and exciting match in which Ukrainian players losing twice over the game course yet led it to a compelling victory 6:2.
STIROL's opponent in the finale was a Moscow team 'Dina' having an impressive record and trophies portfolio. Nevertheless, Ukrainian boys were not intimidated with their opponents' glory trail: in the first half they scored four goals while in the second half, Muscovites had to get the ball out of their net six more times. At the end of the day – a smashing 10:0 defeat and a set of gold medals goes to Gorlovka.
"We trusted in victory. The boys were committed to win and to show what they are capable of. The will, persistence, right strategy and a cast of stars capable of playing as a team – these are the key to our success. On behalf of the entire team I wish to sincerely thank our sponsors – OSTCHEM holding. I think we didn't let them down," commented the team's coach Eduard Skliarov.
"After the final whistle in Moscow, we experienced a great deal of pride for the team, for STIROL staff," said one of the team's managers Mr. Nikolay Krykun. "We have defended the honor of our enterprise and have represented our country with dignity. I wish to thank the company's owner Mr. Dmitry Firtash, OSTCHEM's General Director Mr. Alexander Khalin, to STIROL's entire management team. We will keep flying the flag of our enterprise, city and country."
"Making kids happier is what we essentially were aspiring to," summarized the events Mr. Alexander Khalin, OSTCHEM General Director.
Now, the triumphant winners are faced with an even more demanding challenge – later in the summer they are to take part in an international tournament in Spain where Gorlovka boys will compete with Europe's strongest children's teams.