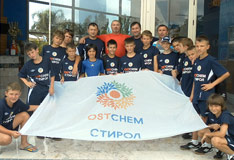 18/07/2012 Gorlovka. Sport. Footsal
Young Footsal Players From Gorlovka Win Golden Medals At International Tournament
Ukraine's national footsal team (U-12) dominated by players from Gorlovka's STIROL and sponsored by OSTCHEM company owned by Mr. Dmitry Firtash has won championship of the prestigious international tournament "Costa Dorada Cup" beating Spain's strongest team
Deporcoslade
in the final.
In addition to the tournament hosts, young players arrived in Spain from Ireland, Australia, Argentina and Ukraine to play in three cities: Salou, Tarragona and Reus.
Mr. Mykola Krykun, STIROL's coach, could barely contain his emotions after the glorious win. "It's just recently that we returned from Moscow winning in the 'Fair Play' tournament – the biggest footsal event across the ex-USSR – and literally smashing the reputed Moscow club Dina," commented Mr. Krykun. "
Costa Dorada Cup
brings together the strongest teams and we have performed incredibly. We are most grateful to Mr. Firtash for his believing in these boys. It is exactly the belief that made the young athletes genuine world stars," said the coach.
The play-off stage ended with a phenomenal 20:2 total score for the young Ukrainians. The semi-final match against the team of
Torrejon
(Madrid suburb) was quite a trying exercise: the first half ended with a 2:1 advantage for Ukrainians and the final score was 4:2 despite the Spaniards' desperate efforts to break through the match.
The final, in which STIROL demonstrated remarkable commitment and will to win, became a real drama for the tournament hosts. "The boys have shown themselves as genuine fighters committed to win, those are my boys! We are excited to see the team we support working out so successfully," said Alexander Khalin, STIROL General Director.
The tournament scorers' rating was topped by Artur Murza (10 goals) and Maxim Zavgorodniy (9 goals) while Maxim Maximenko was voted the tournament's Best Player award.
Eduard Skliarov, a STIROL Team manager, says that the most exciting part of his job is winding up a season holding a prestigious trophy in his hands. "The season is over, the kids are leaving for their rest. In the fall, we'll start preparing for conquering new summits. The Ukraine Cup is ahead of us. I am sure that all teams playing against STIROL will double their efforts to prove that they can play decently against Europe's strongest club," said Mr. Skliarov.