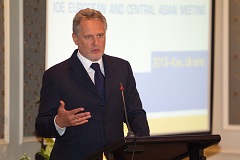 12 September 2013 Federation of Employers of Ukraine. FRU
WTO Should Maintain Open Markets – Dmitry Firtash
The main task of Ukraine, the European Union and the Customs Union is to keep open markets within the WTO. This was stated by Dmitry Firtash, the President of the Federation of Employers of Ukraine, at the annual forum of the International Organization of Employers' members in Europe and Central Asia, which gathered delegations from 40 countries.
"Today we can see a big problem. New trade borders, such as EU-US trade union, Customs Union and ASEAN, have being created inside the WTO. Essentially, the WTO member countries are setting their own trade rules trying to protect their markets", said Dmitry Firtash.
Referring to the situation in August 2013, when Ukrainian enterprises encountered problems while clearing goods at the borders with the countries of the Customs Union, Mr. Firtash said that the problem had turned up not only for Ukrainian enterprises, but also for companies from European countries: "Problems surfaced for companies from Belarus, Russia, Kazakhstan, and EU because our markets are linked. We saw that it was a problem not only for Ukraine, but for Europe and Customs Union", said the President of the Federation of Employers of Ukraine.
Dmitry Firtash is sure that today it is important to maintain open markets in the WTO. "The economy doesn't have to lose anything. It is our position as employers. Having lost this or that market, the EU, the Customs Union, and Ukraine would lose jobs, lose revenue", said Dmitry Firtash.
To address the question of open markets Mr. Firtash proposed the creation of a permanent working group including representatives of the Federation of Employers of Ukraine, the European Business Association BusinessEurope and the Russian Union of Industrialists and Entrepreneurs.
"We need to understand the main thing – where there are contradictions between the Customs Union and the WTO, and what we need to do to resolve these contradictions. We do not have to put Europe, Russia, other countries of the Customs Union and Ukraine in a situation when a choice has to be made. Our main task is to keep the markets", said the FEU President.
NOTE
The International Organisation of Employers was established in 1920 and represents employers' interests in economic, social and labor relations with the government and with unions. Forum of the IOE representatives in the countries of Europe and Central Asia is held in Ukraine for the first time.
The Federation of Employers of Ukraine represents interests of Ukrainian business and unites more than 8 thousand enterprises that collectively employ over 5 million people and account for almost