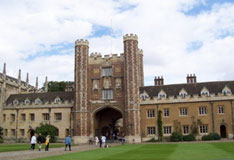 11 November 2011 Charity. Education. Cambridge Ukrainian Studies
Volodymyr Tykhyi And Maryna Vroda Headline The Fourth Annual Cambridge Festival Of Ukrainian Film
New films by a number of Ukraine's best directors will be shown at the Fourth Annual Cambridge Festival of Ukrainian Film on 11-12 November. This popular Festival is hosted by the Ukrainian Studies program at the University of Cambridge, which is financed by Dmitry Firtash. The Festival is sold out every year, and features the best of contemporary Ukrainian cinema as well as international documentary features about Ukraine.
On Friday, 11 November, filmmakers Volodymyr Tykhyi and Maryna Vroda will be present in Cambridge to discuss their work with the audience, arriving from all over England to attend the event. Tykhyi will screen short films from the collaborative project 'Ukraino, Goodbye', a follow-up to the sensational 'Mudaky: Arabesky'. Vroda will screen a number of her short films, including 'Cross', which won the Palme d'Or at the 2011 Cannes Film Festival.
'We are very honored and excited to have Volodymyr Tykhyi and Maryna Vroda sharing their extraordinary work with us in England,' said Dr Rory Finnin, Director of the Ukrainian Studies program at Cambridge. 'They are not afraid to push the boundaries of their art or to confront poignant and pressing social issues in their films. Ukrainian cinema is in the midst of a renaissance, and we are very proud to be able to bring it to England.'
On Saturday, 12 November, Olha Onyshko and Sarah Farhat will present their new documentary film 'Three Stories of Galicia', which tells a powerful, uplifting story of a Jewish family, a Ukrainian woman, and a Polish priest who chose fellowship over fear during the Nazi and Stalinist eras.
In conjunction with the Fourth Annual Film Festival, Cambridge Ukrainian Studies is also hosting the first international symposium devoted to the cinema of Ihor Savchenko (1906-1950), whose films are largely unknown in the West. Among Savchenko's students were some of the most celebrated filmmakers of the post-Stalin era: Marlen Khutsiev, Sergei Parajanov, Aleksandr Alov and Vladimir Naumov.
It has been a busy year for the program. This autumn, Cambridge Ukrainian Studies is also collaborating with the Royal Court Theatre and the British Council on the translation of a project involving Ukrainian and Georgian playwrights.
Cambridge Ukrainian Studies offers a number of courses in the Ukrainian language, literature and culture and hosts a regular series of public lectures, exhibitions and literary readings to promote and contribute to the study of Ukraine in the United Kingdom and beyond.
The program was launched in 2008 and made permanent in 2010 thanks to the support of Mr. Dmitry Firtash.
More information can be found at
www.CambridgeUkrainianStudies.org