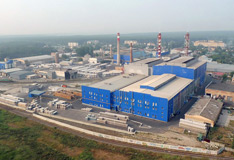 19 March 2013 Federation of Employers of Ukraine. Promotion of Enterprise
Ukrainian Industry Needs New Electricity Pricing
The price of electricity for Ukrainian enterprises should not exceed its export price, said President of the Federation of Employers of Ukraine Dmitry Firtash in Zaporizhzhya during the meeting with heads and owners of over 200 largest and medium-sized enterprises and the leadership of Zaporizhzhya Regional State Administration.
According to Dmitry Firtash, Ukraine exports electricity at prices that are much lower than prices for domestic industrial consumers. At the National Energy Regulatory Commission the Federation of Employers of Ukraine stands up for position that the electricity should be sold to domestic producers at prices no higher than for export.
"Everyone understands what role the price of electricity plays, for example, for the non-ferrous metal sector. It is half of the production cost, and this is an issue of thousands of jobs. The Federation of Employers of Ukraine will submit the issue to the government," – said Dmitry Firtash.