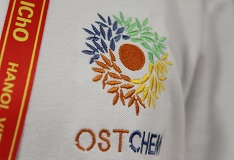 30 July 2014 Charity. Education
Ukrainian high school students gained victory in the 46th International Chemistry Olympiad and entered the TOP-3 teams
Ukrainian high school students have won two gold and two silver medals in the 46th International Chemistry Olympiad in Hanoi (Vietnam). By the total score they entered the top-3 teams among 77 participating countries across the world.


Kyiv high school students Roman Didenko ('Podil' Lyceum #100) and Khrystofor Khokhlov (Natural Sciences Lyceum #145) have won gold medals. Oleg Gordiychuk and Vladyslav Neshta, the students of Lviv Physics and Mathematics Lyceum, brought silver for Ukraine. Moreover, gold prize-winner Roman Didenko gained the record score for the first time in the history of Ukraine – 86.08 points – and became the second overall gold champion of the Olympiad with only 1 point behind a student from Singapore. Khrystofor Khokhlov was the 5th among gold prize-winners. Overall 291 high school students took part in the Chemistry Olympiad.


International Chemistry Olympiad is a prestigious annual competition among high school students. This year, 46th International Olympiad took place on 20-29 July in Hanoi city, the capital of the Socialist Republic of Vietnam. The next 47th Olympiad will take place in Baku, Azerbaijan.


Selection for Ukrainian national team is held among the winners of All-Ukrainian Olympiad and Mendeleev Olympiad. This year, winners of All-Ukrainian Chemistry Olympiad and prize-winners of previous international competitions became the members of Ukrainian team. In particular, Khrystofor Khokhlov has won bronze medal in the International Chemistry Olympiad in 2013, and Roman Didenko as well as pupils from Lviv, Oleg Gordiychuk and Vladyslav Neshta, have become the prize-winners of Mendeleev Olympiad in 2013.


"Victory of Ukrainian high school students in this intellectual competition proves again that there are many talented children interested in such science as chemistry in Ukraine. Fortunately, Ukrainian business helps pupils to test their knowledge in the international level competitions," said Kostyantyn Gavrylenko, the curator of Ukrainian team, commenting the results of the Olympiad.


OSTCHEM holding, consolidating Group DF's mineral fertilizer producers, in cooperation with the Institute of Innovative Technologies and Education Content of the Ministry of Education and Science of Ukraine, has been consistently supporting participation of Ukrainian national teams in chemical Olympiads starting from 2011.


"These pupils are the pride of our country. Competitions of international level demand high-level training and our children have shown that we have considerable science potential in chemistry. We will continue supporting talented children who are interested in the science, and they will build the future of chemical industry and the future of Ukraine," noted Oleksandr Khalin, General Director of OSTCHEM.


Support of Ukrainian Olympiad team is provided as a part of a 'Support of School Chemical Education' program which was initiated by Dmitry Firtash, the Chairman of Group DF Supervisory Council. Support of education in Ukraine is one of the priority directions in the Corporate Responsibility of Group DF. Commenting the results of the Olympiad, Dmitry Firtash, the Chairman of Group DF Supervisory Council, emphasized: "The second place at the international Olympiad is an excellent achievement which only proves that we are moving in the right direction. Our chemical company started to support Ukraine's National Olympic team four years ago and ever since, our young people have been performing better and better. We are looking into the future and we understand that we can only build up a powerful chemical sector as long as we manage to ensure an efficient professional training system which roots in school. I will use the best of my efforts to make sure that our boys and girls can realize themselves as engineers or scientists at Ukrainian R&D institutions and enterprises," said Mr. Dmitry Firtash, Head of the Board of Group DF and President of the Federation of Employers of Ukraine.


Before a journey Ukrainian pupils had a week training attending the course of lectures under the leadership of Kostyantyn Gavrylenko, PhD in Chemistry, Senior Researcher of Taras Shevchenko National University of Kyiv, Dmytro Volochnyuk, DSc in Chemistry, the Head of the Department of the Institute of Organic Chemistry in the National Academy of Sciences of Ukraine, and Alina Horlova, PhD in Chemistry, Coordinator of International Olympiads in the Institute of Innovative Technologies and Education Content of the Ministry of Education and Science of Ukraine.