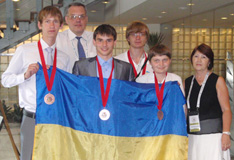 19 July 2011 Charity. Education
Ukraine's Team Boasts Its Best-Ever Score At The 43rd International Chemistry Olympiad In Turkey
The team of Ukraine has won its best-ever set of awards at the 43
rd
International Chemistry Olympiad held in Istanbul, Turkey from 9 through 18 July. The total of 296 contestants representing 73 countries participated.
Competing in different challenges, Anton Arkhipov won the silver medal while Oleg Borodin, Tatiana Druzhenko and Petr Kuzmenko were awarded the bronze medals. With this combined trophy featuring Ukraine's best-ever performance at 18 different International Chemistry Olympiads, the nation's total awards portfolio now boasts 70 medals (10 Golden, 30 Silver and 30 Bronze medals).
Mr. Yuriy Kholin, Vice-President for Research and Tuition of Kharkov National V.N. Karazin University and the curator of the Ukrainian team has commended our team's performance at the Olympiad. According to him, the team's unofficial score puts Ukraine in the world's Top 20. "We performed equal with teams from Japan, Germany, Italy, France, Finland," stressed Mr. Kholin.
The leadership at the Olympiad has been as previously retained by students from China and Russia. While analyzing their performance, Ukrainian team members pointed out that in China, it takes 3 to 4 years to train students for the Olympiad participation. Most gifted boys and girls in China get selected at a very young age to then get specifically prepared for the international competitions. For some, this is the second or even third Olympiad which arms them with a very important experience.
Meanwhile, the training in Ukraine is only confined to one, rarely two pre-Olympiad training sessions. Furthermore, Ukrainian schools lack the necessary equipment for gaining adequate practical skills. According to Oleg Borodin, a Ukrainian team member, participation in an Olympiad involves working with advanced pieces of equipment made in Germany or elsewhere in Europe which is unavailable at Ukrainian schools. For this reason, it took time for Ukrainian students to get used to working with alien equipment which slowed down challenges performance and, respectively, had repercussions on the ultimate score.
According to Mr. Kholin, the Olympiad generates huge experience for the young Ukrainian chemists and would-be scientists. Exchanging ideas and knowledge with gifted youths from other countries helps promote Ukrainian education and science.
Ukraine's international team enjoys support from Mr. Dmitriy Firtash, Head of the Joint Employers Movement of Ukraine and Chairman of the Board of Directors of
Group DF
. He has highly appraised the Ukrainian team's performance at the Olympiad. Mr. Firtash has pointed out that putting in place adequate prerequisites for the talented youth's further growth is extremely important and topical. "Our mission in cooperation with the Ministry for Education, Science, Youth Affairs and Sports is not only confined to offering our gifted young people what they need to get prepared for international competitions. We are looking to providing them with further stimuli for professional advancement and future work in Ukraine. Many of our talented boys and girls these days receive offers to move abroad for study and work, and quite a few accept them. This situation needs to be reverted. It is essential that our youths can be decently employed here in Ukraine and work for the benefit of our state progression. To this end, we must be committed to creating adequate labor conditions and infrastructure for science development in Ukraine," stressed Mr. Firtash.