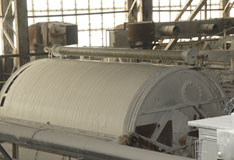 3 November 2011 Chemical Sector. Armiansk
Titanium Sector Of Ukraine Requires Investments Of Over $2 Billion
Interviewed by Den daily, Mr. Firtash, Head of the Board of Directors of Group DF told that a special investment program with capitalization of over $2 billion has been devised with an eye on Ukraine's titanium sector development.
According to Mr. Firtash, the program was put together in response to his initiative suggesting a formation of a private-public titanium holding in which a key role is vested in the investor. "The titanium sector, as well as the chemical one, will enable Ukraine's successful competition in the world markets. This however requires that companies be consolidated and modernized. The government has no cash to invest, companies operate inefficiently," explained Mr. Firtash.
He further added that the investment program implementation in the consolidated titanium sector will enable a dramatic rise in production outputs thereby increasing the state budget revenues. "After an upgrade,
Sumykhimprom
will be able to increase its phosphorous fertilizers outputs by 2.5 times and titanium dioxide outputs – by 4 times. At
Krymskiy TITAN
we intend to almost double outputs. And that's the way we go at each of our enterprises," illustrated Mr. Firtash.
NOTE
Mr. Firtash believes that Ukraine's titanium sector, as well as the chemical one, is a strategic priority for the national economy as 20 % of the world's titanium resources are concentrated in Ukraine. As the international demand for titanium dioxide is steadily growing, Ukraine is facing very promising prospects of enhancing its impact on the global market of this product.
Head of the Board of Directors of Group DF is positive that the titanium industry growth in Ukraine is only possible conditional on assets integration into a private-public titanium holding. The General Director of the publicly-owned holding company '
Titan Ukrainy'
is supportive of the idea of private capital involvement in Ukraine's titanium business. The executive is sure: the government is an inefficient owner.
At present, two companies operating in the titanium sector are publicly owned:
Sumykhimprom
and Zaporizhzya Titanium and Magnesium Complex. Dmitry Firtash shares ownership in
Krymskiy TITAN
(Armiansk. Crimea) with the state. Mr. Firtash has made quite substantial investments in this company development with an eye on doubling its outputs in three years.
Ever since Mr. Firtash became a shareholder in this plant, the titanium dioxide outputs grew from 40 up to 105 thousand tons.