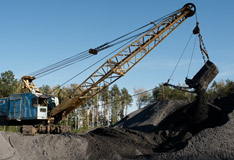 29 October 2010 Chemical Sector
Titanim Industry Is Of Strategic Importance For Ukraine, Says Dmitry Firtash
Group DF has commissioned Mezhdurechensk mining and concentration complex (MCC) producing ilmenite concentrate essential for the titanium industry. The new facility based in Volodarsko-Volynsky district of Zhitomir region will have a capacity of up to 200 thousand tons of ilmenite concentrate a year.
"The commissioning of a new concentration complex will help address the ilmenite concentrate shortage problem ensuing from the steady growth of its consumption by major titanium dioxide producers of Ukraine," commented Mr. Dmitry Firtash, Chairman of the Board of Directors of Group DF. Two Ukrainian enterprises – "Krymskiy Titan" and "Sumykhimprom" – are expected to be principal consumers of Mezhdurechensk MCC product.
The commissioning of Mezhdurechensk MCC will be a powerful tool for strengthening Ukraine's positions on the global titanium products market. "Ukraine ranks among the world's top-ten countries producing titaniferous ores and titanium dioxide, and titanium industry development is of strategic importance for the country," stressed Mr. Firtash.
Group DF analysts predict further sustainable increase in the capacity of the global market of titanium dioxide. This, in particular, is a result of outputs recovery in the sectors being prime consumers of this product, i.e. paintwork materials, paper and plastic manufacturers. Furthermore, the making of paintwork materials is increasingly more reliant on non-toxic titanium dioxide replacing the traditionally used barium, chrome and lead.
"The expansion of titanium dioxide utilization and global markets recovery opens new opportunities for the titanium sector of Ukraine. Appreciating this fact, Group DF has been actively investing in this industry and today's commissioning of Mezhdurechensk MCC is an important benchmark in our investment program," concluded Mr. Firtash.
The launch of Mezhdurechensk MCC also has an important social implication for Zhitomir region as it will boost the local socio-economic development due to new jobs, creation of social infrastructure facilities and replenishment of local budgets.