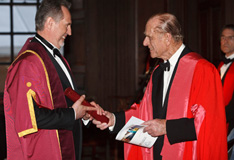 23 March 2011 Charity. Education. Cambridge-Ukraine Studentships. Cambridge Ukrainian Studies
The University Of Cambridge Recognizes Dmitry Firtash's Contribution Into Ukraine's Promotion In The UK
The University of Cambridge has recognized the contribution made by Mr. Dmitriy Firtash in an effort towards promoting Ukraine in the UK by inviting the prominent Ukrainian businessman to join the Guild of Benefactors of the University of Cambridge.
Mr. Firtash has become the first Ukrainian to be admitted to the Guild. The Guild's membership includes benefactors having made outstanding contributions into the research and cultural development of the University. The invitation ceremony is hosted by His Royal Highness Duke of Edinburgh.
Mr. Firtash's contribution into Ukraine popularization in the UK materialized in his support to establishing the permanent Cambridge Ukrainian Studies program.
Launched in 2008 at the University's Department of Slavonic Studies, this program is active in both scholarly and public domains. During the entire academic year, Cambridge students may learn the Ukrainian language, history of Ukraine, its culture and literature, classical and contemporary cinematography. British and foreign students feature a steadily growing interest in these disciplines.
The program's dimension targeting the broad public includes a variety of events, such as an annual Ukrainian film festival, Ukrainian artists exhibitions, Ukrainian literature readings and the like. The University invites leading researchers from across the globe lecturing and hosting seminars on most topical subjects related to Ukraine's history and the present.
The relevance of and demand for these events is vividly demonstrated in the interest displayed by the UK's foremost public figures including MPs, diplomats, media people, culture researchers, historians and other scholars. After the first years of its existence, the program is justly regarded as Ukraine's unofficial cultural and research mission.
'This gift has ensured that Cambridge will be a vibrant home for the study of Ukraine for many generations to come,' said Professor Simon Franklin, Head of the School of Arts and Humanities. 'Mr. Firtash has opened up new possibilities for teaching and research at the University of Cambridge.'
Another charity initiative of Mr. Firtash has been the introduction of the Cambridge-Ukraine Studentships. This program aims to enable Ukraine's most gifted young people to have access to education at one of the world's leading and most prestigious Universities thereby promoting the nation's scientific potential development. The Studentships program is in particular designed to cover the cost of students learning and accommodation at the University.