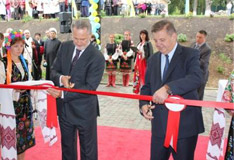 20/09/2012 Charity. Support to Home Town
State-of-the-art Hospital Opened in Zalishchyki
The most modern hospital meeting highest European standards has been opened in Ternopil region to service inhabitants of three districts. It took one year to complete capital renovation of the hospital's six buildings and to build four new ones in the town of Zalishchyki. The medical establishment has been reconstructed as part of Help Your Homeland program initiated and sponsored by the President of the Federation of Employers of Ukraine, Head of the Board of Directors of Group DF Mr. Dmitry Firtash, a native of the village of Synkiv in Zalishchyki district.
The technological capacity of the reconstructed hospital in Zalishchyki makes it the most advanced health care institution across Ternopil, Chernivtsi and Ivano-Frankivsk regions.
According to Mr. Vasily Romaniuk, the hospital's Chief Surgeon, the most urgent problem that Ukraine's community healthcare facilities face today is a lack of modern laboratory and diagnostic equipment. In Zalishchyki, this problem is now longer, says the Chief Surgeon.
"Today, this is one of the most modern hospitals among district healthcare facilities in Ternopil, Chernivtsi and Ivano-Frankivsk regions," said Mr. Vasily Romaniuk. The hospital provides care to up to 50 thousand people of 54 villages in Ternopil region. "Many district hospitals do not have ultrasound and endoscopy equipment. Wear level of car park including ambulances is 70% in Ukraine," said the Chief Surgeon.
Mr. Dmitry Firtash noted that business must be there to support infrastructure development in rural areas and small towns. "Today 21 million people live in villages and small towns. We all see that there is a huge gap in health care and other services quality accessible to inhabitants of cities and villages. My goal as a President of the Federation of Employers of Ukraine is to promote the idea of supporting villages and small towns among business people. If each of us does it, the situation in the country will change," said Mr. Dmitry Firtash.
During a year, four new buildings were constructed in Zalishchyki district hospital. In particular, the ambulance, autopsy room, disinfection room, laundry, garage, diagnostic ward, anesthesiology and intensive care wards, maternity ward have been built and reconstructed. The third floor has been constructed to house pediatric contagious disease clinic and utility rooms. The outpatient facilities, office building, pediatric ward, office building, contagious diseases ward, catering department have been renovated. New heating pipes, water supply and sewerage have been laid.
New reanimation vehicle and five modern ambulances will let Zalishchyki doctors provide in-time medical assistance in distant villages.
Ms. Galina Tsymbalyuk, an ambulance physician of Zalishchyki district hospital, says that owing to the new equipment medical personnel can provide all necessary support and deliver residents of three regions to the hospital.
"In the past, the longest distance we could reach by car was 30 km. Now, there is a hope for villages. In a city short distances help you reach your destination on time, but making it to a remote village on time was a big challenge," says Ms. Galina Tsymbalyuk.
In all hospital buildings and wards without exception, as well as in ambulance cars, new modern equipment has been installed. The most advanced ultrasonic, video endoscope system and apparatus for three specialized x-ray rooms, infant incubators, and new laboratory equipment has been purchased.