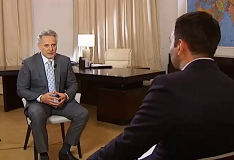 08 June 2015 Federation of Employers of Ukraine
The Government Treats Business People As Enemies
The government treats business people as enemies that's why business has to fight against the government. This was stated by Dmitry Firtash, the President of the Federation of Employers of Ukraine, in the interview to Inter TV Channel.
"If we look at the current government's performance indices over the past year, what do we see? The first thing we see is that 600 thousand jobs were lost in the industrial sector alone during this government's tenure. I guess you realize the scale of the disaster", said the President of the Federation of Employers of Ukraine. "Besides this the government actively attracts foreign loans. We have to realize that Ukrainians as citizens and Ukraine as a country are not in the habit of living on borrowings. We don't know what's like to live on credit because we've been used to earning our living and to calculating our budgets. The current government has led us to a condition when we are living on credits. You clearly appreciate it that it can't last long, this situation must be changed", said Dmitry Firtash.
According to him, the crisis in Ukraine was aggravated by the fact that the government had no strategy for saving the economy, the Cabinet of Ministers acted situationally.
"My feeling is that our government lives like a fish in a tank: as it floats one way, the picture outside the tank is one, next day – it's all different. I mean these are the people who only live one day. They don't have a 5 or 10-year outlook, their outlook doesn't go beyond today. The country can't be ruled that way, the life can't be led that way, business can't be built that way either. As we build up our businesses, we do planning. From the point of business inception up to a plant commissioning, 7 to 8 years elapse. Show me a program that the government has devised for 5-7 years and show me some signs of work being started. No activity whatsoever", stressed the head of the Ukrainian employers.
Dmitry Firtash added, that today the government wanted to attribute all its faults to the war. "When they saw that the war yields no wins, they understood that they still should be doing something and they declared war on the so called oligarchs. But what is a war on oligarchs anyway? It is not about two or three or four or five people, it's about dozens of thousand people across the country who – to a different extent – create jobs, who fill the national budget, who care about the welfare of their regions and how to help make things happen", stressed Dmitry Firtash.
"What's good about employers? We've been living under such circumstances all of our lives. We've been used to working hard. I mean, it has nothing to do with politics, with PR – it's a hard work which you have to do day in and day out. These people are very apt because they have plants, companies, stores. They are responsible for their assets and they attend to them every day. They have more responsibility than the government today. Because the government can afford not to pay wages and pensions on time while these people can't. So, they pay, they maintain their businesses caring about how to keep them up and running on a daily basis while the government is waging wars on them and destroying them. Can you see what's happening? Therefore, today we are faced with a situation in which we have to rise up and say "Stop!" It's a shame that we have to fight against our own government. It's really a shame", summarized the President of the Federation of Employers of Ukraine.
"I think that the critical point of this margin of safety has been surpassed already and we are plummeting down to the very bottom. That's why I've argued that we as the Federation [of Employers of Ukraine] must assume a great deal of responsibility and start doing all those things that the government fails to do", said Dmitry Firtash.
The full version of the interview is available
here
.