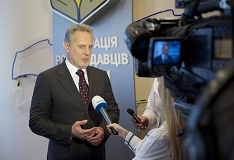 14 July 2014 Federation of Employers of Ukraine
The FEU To Support Donbass Restoration – Dmitry Firtash
The Federation of Employers of Ukraine stands ready to participate in Donbass program development and financing. This was stated by the President of the Federation of Employers of Ukraine Dmitry Firtash in the interview to Inter TV Channel.
"The Federation of Employers stands ready to participate. We are ready to donate money. More so, not only are we ready to donate, we are also ready to be involved in the Donbass restoration program development", said the President of the Federation of Employers of Ukraine.
Dmitry Firtash noted that FEU was analyzing recent economic and infrastructure state of the Donetsk and Luhansk regions and was going to suggest its plan for region restoration to the Prime-minister and the President. The President of the Federation of Employers of Ukraine stressed, that in such conditions the country needed support of the Ukrainian business. According to Dmitry Firtash, the Federation of Employers of Ukraine, that unites 8.5 enterprises generating 70% of Ukraine's GDP, stands ready to uphold the state.
"Without engaging entrepreneurs, without engaging the FEU, without engaging major employers I don't think the government will be able to cope with this challenge, they just have to rely on somebody", stressed Dmitry Firtash. He explained that the government had to decide upon its targets for investments and upon investment targets for business people. "But as a whole we must act as a band led by one conductor to do our job right", said Dmitry Firtash. Also he noted that that sum necessary for region restoration was still unknown because there was no understanding about damages scale.
Talking about priority tasks in the Donetsk and Luhansk regions, Dmitry Firtash named people's residences and infrastructure reconstruction. "The top priority is to reconstruct people's residences, supply them with water, gas, to rebuild the destroyed infrastructure, schools, nurseries, to put all the facilities in operation for people to understand that the normal life conditions are back", said Dmitry Firtash.
The FEU President also added that the second task was to get the people who had fled to come back. "They had no choice so they decided they should leave. They can't be blamed for it but we do have to have them back – they are our fellow Ukrainians. It's not just about a territory, it's about the people living in it. And it is vital that these people are where they belong – in our country", said the FEU President.
In parallel to that, re-commission of the enterprises and infrastructure renovation were a must. "Bridges have been demolished, roads destroyed. Even if you re-launch a company, you can't ship its products out of the facility. This is a major problem", explained Dmitry Firtash.
Also according to Dmitry Firtash, the FEU was negotiating with other countries on providing state guarantees to foreign investors planning to invest funds in Ukraine.
Also the FEU President stated about putting in place a small and medium enterprise fund capitalized with some 500 million Euro. Among the potential investors are the EBRD, European governments, big foreign and Ukrainian companies. "The main task is to create new jobs", stressed Dmitry Firtash.
"I am sure that Ukraine faces great future, I most sincerely believe in it. I think that we will decently get by and many countries will watch us successfully meeting all our challenges".