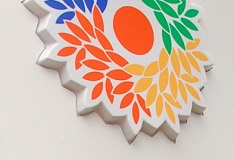 03 September 2014. Chemical industry. Development of chemical industry
OSTCHEM Launched Support Program For Farmers
OSTCHEM Chemical Holding, (consolidating Group DF's fertilizer business), commenced implementation of a support program for small farmers. The major objective of this initiative is to help the agricultural producers in raising their business productivity by using the most novelty instruments.
Under the program, OSTCHEM opened the agriforum "Four Seasons", which will become a tradition and will be held four times a year in different regions of Ukraine. The first summer workshop was held on August 21-22 in Cherkassy on one of the largest Ukrainian enterprises for mineral fertilizers production – Cherkassy 'Azot'.
The Cherkassy agroforum's main topic was devoted to current season issue – autumn sowing, and the key subject of the seminar was the latest achievements of agricultural technologies, experience in field work, as well as prospects for agribusiness development.
"Through this program we strive to help the whole of agricultural sector in becoming more efficient. The core of the program is the implementation of modern agro-chemical technologies, development and support of the new system of agricultural education, and creation the prerequisites to provide farmers with the whole range of services", commented Maria Bezzubova, Director, of OSTCHEM Holding for Marketing, Strategic Analysis and Planning.
Forum participants included over 150 experts cooperating with agricultural sector. Major forum participants and speakers will include successful farmers, sector experts, mineral fertilizers producers, suppliers of plant protection means, and field-specific Ukrainian and foreign scholars.
The owner of the largest Ukrainian chemical holding OSTCHEM, Chairman of the Group DF Supervisory Board of Directors of Dmitry Firtash is sure that systemic introduction of modern technologies in the Ukrainian agriculture can give a powerful impetus to the industry development, and the growth in fertilizer consumption is invariably associated with an increase in the agriculture efficiency. According to Dmitry Firtash, in the coming years, the use of fertilizers in Ukraine could be compared with the rates of fertilizer consumption in European countries. "Fertilizers is a key to the efficiency of agriculture, key to profits of a farmer", said Dmitry Firtash.

NOTE
OSTCHEM, being part of Group DF, is the leading mineral fertilizer producer in Ukraine, including the following mineral fertilizer producers: Azot (Cherkassy, Ukraine), Concern Stirol (Gorlovka, Ukraine), Severodonetsk Azot Association (Severodonetsk, Ukraine), Rivne Azot (Rivne, Ukraine). Group DF's mineral fertilizer distribution segment is represented by UkrAgro NPK (part of OSTCHEM). Also OSTCHEM includes mineral Nika Tera specialised seaport. Holding enterprises employ 23.5 thousand people.
"Four seasons" forum will lead to forming regional communities of farmers and will allow consolidating useful information for the participants in one place. The new communication platform will serve a useful instrument and a new source of knowledge for agricultural market participants. Major forum will include best field-specific Ukrainian scientists, successful farmers, sector experts, mineral fertilizers producers, suppliers of plant protection means, and international experts.
Group DF is a diversified international group of companies, operating in a number of countries across Europe and Asia. Our core areas of operations are fertilizer and titanium businesses, gas distribution and banking. Other businesses of the Group currently include agribusiness, media business, soda ash business, energy infrastructure development and real estate. Group DF is actively developing its investment portfolio and expanding into new business segments. Currently, the Group is one of the leading chemical industry investors in Eastern Europe. Group DF is an international group, passionate about creating new businesses and transforming them into global leading players while contributing to the economic and social development of Ukraine and other regions where we operate. Group DF employs more than 100 thousand people. The founder of Group DF is Dmitry Firtash, a prominent Ukrainian investor and businessman.