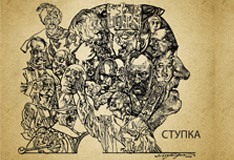 29 August – 5 October 2011 Charity. Culture
Screening of Films Starring Bohdan Stupka As Part of His 70-Year Jubilee Celebration in Kiev
The celebration of the 70
th
anniversary of Ukraine's great actor Bohdan Stupka is on featuring retrospective and premiering films he stars in. The jubilee events are organized with support of Mr. Dmitry Firtash, Head of the Joint Employers Movement of Ukraine and Head of the Board of Directors of Group DF.
From 29 September through 5 October, the Kiev-based movie theater "Ukraine" will host a screening of four retrospective pictures and three premieres starring Mr. Stupka.
The screening was opened with a theatrical premiere of a dramedy "And a Warm Heart", a Ukrainian-Polish joint production (2008) directed by one of Europe's leading film-makers Krzysztof Zanussi. For his leading role in this film Bohdan Stupka was awarded the Silver Marc'Aurelio at the Rome International Film Festival.
The retrospective films are very personal benchmarks for Bohdan Stupka. This first and foremost refers to a biopic picture "Highlights of Ostap Vyshnia's Life" (dir. Yaroslav Lanchak, 1991) and the actor's film debut "The Black-Spotted White Bird" (dir. Yuriy Illyenko, 1970). The festive screening program will culminate in a premiere presentation of a family saga "The House" from a Russian director Oleg Pogodin.
NOTE:
Bohdan S. Stupka – an outstanding theatrical and film actor, was born on August 27, 1941 in the village of Kulykiv, Lviv region. In 1961 he completed a drama course at a studio of M. Zankovetska Lviv Ukrainian Drama Theater. His artistic career began at this theater where he worked from 1961 through 1978 then moving to Ivan Franko Kiev National Ukrainian Drama Theater. Since 2001, he has been combining his actor's capacity with a position of a Chief Artistic Officer of the theater.
In 1999 – 2001 B. Stupka acted as a Minister of Culture and Arts of Ukraine, presently he is a member of a number of artistic unions, both domestically and internationally. Holds titles of the People's Actor of the USSR, People's Actor of Ukraine, Hero of Ukraine. Awarded a number of state decorations including the Order of Yaroslav The Wise 4
th
Degree (2010) and the Order of Yaroslav The Wise 5
th
Degree (2006).