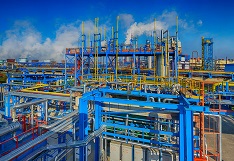 23/03/2016 Chemical Industry.
Rivneazot Achieved Record Production Figures Since Its Foundation
Rivneazot PJSC, part of Dmitry Firtash's Group DF, has increased production rates establishing a record of output.
Due to the large-scale modernization held in 2015 and 2016, the company managed to reach high production rates. Last year, the plant carried out major repairs of the five departments, and in 2016, Rivneazot PJSC held equipment repairs in the main production departments. In particular, company's repair services carried out work in the concentrated nitric acid workshop, complex mineral fertilizers and ammonia-2 workshops.
Thanks to the timely modernization of key departments, the maximum load of nitric acid shop and complex fertilizers shop, the high production performance was achieved.
In 2016, the plant produced about 195 000 tons of mineral fertilizers. The largest share was the production of ammonium nitrate. Within two months of 2016, the company produced more than 103 700 tons. In January, the company produced the greatest amount of ammonium nitrate since its foundation – 53 768 tons.
In 2015, Rivneazot PJSC allocated more than UAH 208.3 million for environment protection. These investments were directed to current expenses for the maintenance and operation of the assets intended for nature protection purposes and their overhaul.