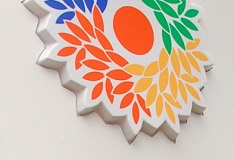 26 December 2013 Charity
OSTCHEM Producers Brought Joy To Children
On the eve of the New Year and Christmas, the fertilizer producers of
Group DF
which are part of OSTCHEM holding held a real fete for those children most needing care and attention, and lent financial assistance to special educational institutions and rehabilitation centres in every region where these producers operate.
"All children fantasize, believe in fairy tales and await miracles, especially as the New Year is approaching. Unfortunately, there are children deprived of parental care who are in especially great need of our sympathy. That is why each of OSTCHEM producers goes beyond granting just material aid to their sponsored institutions and boarding schools, but tries to give attention to children and to bring a dream into their life," says Oleksandr Khalin, General Director of OSTCHEM.
Thus, on 19 December, on the St. Nicholas Day, the holiday spirit came to inmates of Yasenynytsky Educational and Rehabilitation Centre and Rivne Regional Specialized Orphanage – they hosted guests from Rivne Azot, who brought gifts with them. The children have also been visited by fairy heroes – members of the Children's Theatre School, 'Arlekino'.
"It has already been 10 years that Rivne Azot employees give our inmates a feeling of a dream just before the New Year. But they are not confined to this only. Every year, the company donates about UAH 150-200 thousand to us, and this is a substantial support to the state funds. Thanks to this aid we have managed to purchase new furniture, bed linen, and clothes for our children, as well as gym and pool equipment. We have also renovated the premises and arranged the surrounding area," says Stepan Kopera, the Director of Yasenynytsky Educational and Rehabilitation Centre.
The inmates of Severodonetsk Regional Boarding School were also covered by the attention and gifts, as well as pupils of the secondary school in Volcheyarovka settlement – they were visited by the employees of Severodonetsk Azot Association.
In their turn, representatives of Concern Stirol donated sweet presents to the children at the Centre for Social and Psychological Rehabilitation of Children of Gorlovka municipal council.
"It is just a small part of what Concern Stirol does for our Centre and its little inhabitants," says Anzhelika Gontovaya, Director of the Centre for Social and Psychological Rehabilitation of Children. "For example, this year, they have donated office equipment to us, fixed our heating system, installed plastic doors, and provided buses for sightseeing trips."
Cherkassy Azot arranged a series of morning parties in the 'Druzhba Narodiv' Cultural Centre for children of company's employees, junior school pupils, and for children with special needs, orphans, and children from large families. Moreover, Cherkassy Azot organized festivities for little patients of Cherkassy Oncological Clinic and Regional Children's Hospital. All children got cuddly toys and sweets as gifts.
Group DF's production companies provide systematic assistance to childcare facilities. As an expample, since becoming part of OSTCHEM holding in April 2011, Cherkassy Azot has spent over USD 1.3 million on the material support to schools, kindergartens and orphanages.