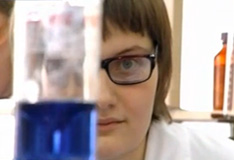 31 October 2014 Charity. Education. School
OSTCHEM Forms Future Professions Market
Dmitry Firtash's OSTCHEM Chemical Holding (consolidating Group DF's fertilizer business) will support the program aiming to promote engineering and technical specialties in Ukraine.
Having become one of the partners in a pilot European project 'STEM: Professions of the Future', OSTCHEM specialists will promote engineering and technical specialties among Ukrainian high school students.
"Today chemical industry is experiencing a considerable shortage of human resources. In particular, our nitrogen facilities require qualified chemical engineers. The majority of seniors have not chosen their future profession yet. On this stage it is really important for us to establish contacts with high school students, arouse their interest and guide them", comments Oleksandr Khalin, General Director of OSTCHEM.
In the framework of the project 'STEM: Professions of the Future' successfully tested in France and Italy during two years and launched in Turkey, Greece, Spain and Ukraine in 2014, OSTCHEM`s experts will give Chemistry lessons in 20 Kyiv schools for over 400 10th grade pupils within the project. Holding`s specialists will tell high school students about career opportunities in chemical industry and conduct excursions to the chemical industry enterprises.
"We plan to keep in touch with talented schoolchildren who will be interested in Chemistry. After the project we will help them to learn the basics of the profession and help in further employment at chemical industry enterprises", says Oleksandr Khalin.
Since 2010 in the framework of the program "Supporting Chemistry Learning at Schools" initiated by Dmitry Firtash OSTCHEM has been providing chemical laboratories with modern equipment, supporting young chemists on All-Ukrainian and International Olympiads, and allocates scholarship for teachers within the 'Support of School Chemical Education' programme. Since 2011 the holding, in cooperation with the Institute of Innovative Technologies and Education Content of the Ministry of Education and Science of Ukraine, has been supported participation of the national teams of Ukrainian high school students in chemical Olympiads. In 2013, OSTCHEM holding funded establishment of the specialized Industry Board under the All-Ukrainian Industrial Association of Employer Organizations in Chemical Industry. The Board developed standards for relevant specialties which are in demand in chemical industry. The Industry Board also assesses staffing needs of Ukrainian chemical industry.

NOTE
STEM is an acronym referring to the educational fields of Science, Technology, Engineering and Mathematics. The project is implemented as a part of 'Deploy Your Talents – Stepping up the STEM Agenda for Europe' programme, held by CSR Europe (Brussels), a European organization. The project was successfully tested in France and Italy during two years. In 2014, it was launched in Turkey, Greece, Spain and Ukraine.
In 2014, besides OSTCHEM, the largest companies – Ericsson, Intel, Melexis, Syngenta – have become the partners of the project in Ukraine. Within two years, the project has been successfully tested in France and Italy, and launched in Turkey, Greece, Spain and Ukraine in 2014.
OSTCHEM Holding is one of the biggest mineral fertilizer producers in Ukraine including high efficient and competitive enterprises: Azot (Cherkassy, Ukraine), Concern Stirol (Gorlovka, Ukraine), Severodonetsk Azot Association (Severodonetsk, Ukraine), Rivne Azot (Rivne, Ukraine).
Group DF is a diversified international group of companies, operating in a number of countries across Europe and Asia. Our core areas of operations are fertilizer and titanium businesses, gas distribution and banking. Other businesses of the Group currently include agribusiness, media business, soda ash business, energy infrastructure development and real estate. Group DF is actively developing its investment portfolio and expanding into new business segments. Currently, the Group is one of the leading chemical industry investors in Eastern Europe. The founder of Group DF is Dmitry Firtash, a prominent Ukrainian investor and businessman.