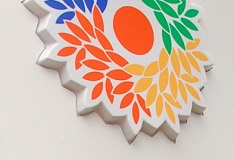 29 January 2016
OSTCHEM Enterprises Increase Production Volumes
Cherkassy Azot, part of the OSTCHEM holding (a holding company that consolidates Dmitry Firtash's Group DF assets in nitrogen fertilizer production), produced a record amount of ammonium nitrate – more than 100 thousand tons of products were shipped in December 2015.
The company noted that the work of the plant at full power provided not only stable jobs for workers in the chemical industry of the region, but also was a guarantee of the sowing season success for Ukrainian farmers. Fertilizers are produced exclusively for domestic sales.
"Today, the main task for Cherkassy Azot and for all Ukrainian fertilizer producers is to provide Ukrainian agrarians with the required amount of fertilizers for the spring sowing season", said Vitaliy Sklyarov, Chairman of the Board of Azot PJSC.
The high quality of Cherkassy Azot fertilizers allowed the company to become the largest Ukrainian manufacturer of ammonium nitrate with a share of 51%.
Every minute Azot produces more than two tons of high-quality fertilizers, which are immediately packed and shipped by rail or highway transport to customers.
Timely repairs and reconstruction of equipment, system improvement process allow the company to increase production volume and improve its competitiveness. In IV quarter of 2015, Cherkassy Azot produced and shipped more than 290 thousand tons of ammonium nitrate.