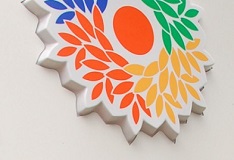 21 August 2015 Education.
OSTCHEM Deepens Cooperation With the Kiev Polytechnic Institute
Rivneazot, being part of the OSTCHEM chemical holding owned by Dmitry Firtash, and the National Technical University "Kyiv Polytechnic Institute" (KPI) signed a cooperation agreement. According to the bilateral agreement, the KPI will prepare highly qualified specialists of profile specialties for the enterprise.
As part of the cooperation system between the OSTCHEM chemical plants and educational institutions, professionals of the holding prepare young specialists to real work in the company, providing students professional theoretical and practical skills in the training centers of the plants.
"We not only improve educational and professional level of our employees, but also we prepare young professionals in close cooperation with schools and provide high-quality selection and training of personnel in the company", said Mykhaylo Zabluda, the Chairman of the Board of JSC "Rivneazot".
Today, 22 employees of the plant study at the KPI Chemical Engineering Department. The company believes that the new generation of talented chemists will allow advanced development of practical science.
"We have already considered KPI graduates who want to work in Rivneazot. There a lot of candidates wishing to work in the company, however, we will hire only the most talented", assured Serhiy Gryhoriev, the Head of the Rivneazot personnel department.
In September, to further enhance cooperation between the KPI and Rivneazot in order to attract best chemistry students, the personnel department representatives plan to hold a working meeting with the future university graduates. Future chemical industry professionals will be acquainted with the Rivneazot production process, creation and historical development, working conditions, chemist professional qualities, social security benefits of workers, bonuses, etc..
Rivneazot and the KPI cooperation started in March 2012 from the passage of the training by the university students in the framework of practical training at the site of the enterprise. In 2013, JSC "Rivneazot" and "KPI" signed an agreement on professional training.
According to the long-term program of training in the company, in addition to "KPI", Rivneazot cooperates with the Vinnitsa National Technical University, National University "Lviv Polytechnic", Dneprodzerzhinsk State Technical University, Dnepropetrovsk Ukrainian State Chemical Technology University, Rivne National University of Water Resources and Environmental Management, as well as with all schools and technical colleges of the National University of Water Management and Natural Resources in Rivne.