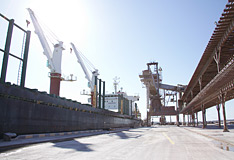 29 April 2013 Promotion of Enterprise. Nika-Tera
Nika Tera Seaport To Increase Mineral Fertilizers Turnover
Nika Tera specialized sea port ('Nika Tera SSP', LLC), which is part of Group DF, plans to complete the construction of a new facility for urea transshipment by the end of May 2013.
This was stated by the Chairman of Nika Tera Oleksandr Gaydu: "By the end of May we plan to have the facilities commissioned. Owing to the additional facilities launching, the cargo turnover of mineral fertilizers complex will be increased from 4 to 5.7 million tons".
A new technology for takeover of bulk fertilizers from rail transport will be introduced at the enterprise. The technology will allow loading urea to vessel with a capacity of up to 1,500 tons per hour. Also, at the same time the port will be able to store about 50 million tons of urea.
According to Oleksandr Gaydu, construction of facilities for fertilizers transshipment will satisfy needs of Group DF's nitrogen chemical industries united by the OSTCHEM holding.
Group DF's investments in this project will amount to $12.3 million. The Group has provided the port with all financial resources needed to complete the construction of new port facilities for urea transshipment.
Earlier the Chairman of Nika-Tera announced plans to build new grain transshipment facilities by the end of the year. According to the approved business plan, the investments into this project in 2013 will amount to UAH 124 million (more than $15 mln). Owing to the construction of grain silos, the capacity of the port's granaries will increase more than fivefold – from the current 40 thousand tons to 210 thousand tons. This will allow increasing the cargo turnover of the grain complex to 6 mln. tons per year. Nika Tera's increased grain transshipment capacities open up new opportunities for fertilizers producers to cooperate with farmers, who buy fertilizers and sell grain for export.
Thus, the port capacity growth will make other assets of the Group more competitive. For example, reduction of transport costs for cargo transshipment will enable farmers, who buy our fertilizers, to sell grain using services of the port.
"If we are talking about rather large volumes of transshipment, long-term, comprehensive cooperation and contracts, the price will vary. We are interested in "long-term" reliable clients that can pay for our services", – said Oleksandr Gaydu. However, he stresses that the port is a separate profit oriented business.
NOTE
'Nika Tera SSP', LLC is an advanced and highly mechanized port which is a part of OSTCHEM. Nika Tera includes three specialized complexes, the so-called "freight districts". Each one of them specializes on transhipment of different types of freight such as grains, mineral fertilizers and other dry bulk.
Nika Tera is located on the left bank of Bugskiy estuary, 34 miles away from the sea. The port's territory is adjacent to the Zhovtneva railway station. Nika Tera includes seven piers more than 1,300 r. m long, five of which are in commercial operation. The company was established in 1995 as a port terminal for transhipment of potassium fertilizers. The port's initial name is Mykolayiv Potassium Terminal, JSC.
Investing in Nika Tera capacity expansion started after Dmitry Firtash had become the owner of the port. In November 2011, the Antimonopoly Committee granted Group DF permission to acquire 100% of 'Nika Tera SSP' LLC. As of January 1, 2013 investments in the port amounted to USD 419.7 million.
Group DF is a diversified international group of companies, operating in a number of countries across Europe and Asia. Our core areas of operations are fertilizer and titanium businesses, gas distribution and banking. Other businesses of the Group currently include agribusiness, media business, soda ash production, energy infrastructure development and real estate.