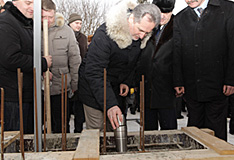 10 February 2012 Charity.
Contribution into Homeland
New Opportunities For New Village
The toll of working on the land became known to Dmitry Firtash in his
school years
: back at Soviet times, the family would earn their extra income by growing tomatoes in greenhouses built on their land plot. That was business as usual for many in Sinkov. Tomatoes were grown in abundance but to sell them well, the harvest had to be shipped all the way to Baltic republics, some thousand miles away. The gain was good but the cost of it was high too – long hours of hard work. Many years have elapsed since then but for the majority of Ukrainian villages little has changed: manual hard work from dawn to dusk is still an everyday routine for farmers.
In Sinkov though, where Dmitry Firtash has been pursuing a number of projects under a
Help Your Homeland
program umbrella, this practice will soon become an anachronism. The entrepreneur has launched the construction of a unique and Western Ukraine's largest greenhouse complex. This facility is unique not only in terms of its scale (total square – 10 hectares), nor due to the amount of investment in it (US$100 million). Upon the construction completion and facility commissioning (scheduled for as soon as the fall of 2012), this is going to be a state-of-the-art hi-tech enterprise producing up to 4000 tons of tomatoes and 1550 tons of peppers a year.
However, the high productivity and import substitution effect (up to 20 % for some cultures) represent purely economical categories. The most importantly social value of the project is that the complex emergence in Sinkov signifies another landmark of the Ukrainian village revival. Dmitry Firtash is convinced that the problem of rural citizens' outflow to cities may only be fought by creating adequate life quality in the village. "Over the past 20 years, 360 villages ceased to exist. It is only business creating new enterprises, new jobs that can breath a new life into them. This is a key issue for us today and I hope we will work it out," said Mr. Firtash. According to him, once the greenhouse facility becomes operative, it will employ from 150 to 200 workers. Noteworthy, it does not only mean jobs for Sinkov residents but also employment of skilled technical and engineering personnel to set up and maintain hi-tech operational processes. "It would be wrong to expect that only villagers will be employed at the facility. We need young specialists and the ones who pass all the tests will work here. It is very important for us," stressed Mr. Firtash.
The greenhouse complex construction will provide a powerful impetus to Sinkov development. Thanks to Dmitry Firtash's efforts and financial support, this community boasts all essential amenities for its residents' comfortable life, their work and personal growth: each household is connected to gas supply, the church has been rebuilt and roads renovated, the family practitioner's clinic is being remodeled, a modern school featuring several computer classrooms is expecting the completion of a new stadium attached to it. In addition to that, a modern hotel and a restaurant are being built in the village.