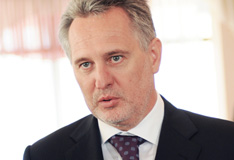 20 April 2011 Chemical Sector. Congress of Chemists of Ukraine
New Models of Relations With Foreign Markets Players Key to Strengthening Ukrainian Chemical Industries Positions Internationally
Ukrainian chemical sector has to devise a pattern of joint sales, to come to terms with international mineral fertilizers producers, said Mr. Dmitry Firtash as he was speaking at the Congress of Chemists of Ukraine. He also shared his confidence that such an approach will help Ukrainian chemical producers become powerful players on the global fertilizers markets.
According to Mr. Firtash, he is pursuing a series of talks with a major Russian producer exploring joint sales opportunities. "Yesterday, we had a discussion with Russian colleagues just, a pretty large chemical group. And I think we will achieve mutual understanding. They account for a fairly big market share. And it seems to me, we will start selling certain products jointly. And this is going to be a very serious move," emphasized Mr. Firtash.
He cited a number of examples of successful cooperation in fertilizers distribution, including the sales house of
Belaruskaliy
and
Uralkaliy
. Mr. Firtash also stressed that having a single trader allowed these companies to significantly reinforce their market positions.