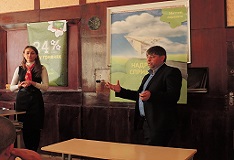 22 January 2015 Nadra Bank
Nadra Bank Teaches Pupils and Students to Increase Their Capital
Nadra Bank reviews interim results of the training program on improving financial literacy for students and pupils. Over three months hundreds of students of more than 30 high schools, technical schools and universities across Ukraine learned how to draw up a household budget and manage their finances correctly, how to save and accumulate their capital.
Financial lessons were developed by Nadra Bank's Department of business training. Experts of the department provide employees with the opportunity to gain knowledge required for successful accomplishment of current and future professional tasks.
"Within the social responsibility strategy Nadra Bank has been successfully implementing projects on improvement of financial literacy for students, retired people, young families and entrepreneurs for a few years. We developed a program which first of all helps to develop the right attitude to money and teaches how to distinguish wishes and needs. But it is just a theoretical part. Like in any training, the most important part is practice. Participants of the program actively solve cases regarding personal and household budgets by the example of the average Ukrainian family. They debate, help each other and even compete with each other," Serhiy Havrylyuk, advisor in Nadra Bank's Department of business training, tells.
Improving the financial literacy of students is a part of integrated program on bank's cooperation with Ukrainian educational institutions. The bank has been implementing this program for a few years. It includes financial trainings for children in summer camps and open days in the bank branches when students can see first-hand the work of one of the largest financial institutions of the country. Besides, the program contains support for student council, development of sports, social and leisure projects.
Reviews of young trainees confirm that financial literacy acquires a status of the vital skill. "I liked the training very much! I get a scholarship and now I know how to monitor my finances, plan my future income and expenses and understand financial matters. I will learn to live within my means," said Kostyantyn, student of Chernihiv National University of Technology.
It bears reminding that Nadra Bank implements a program on increasing financial literacy among students which started under the aegis of National Bank of Ukraine in late October, 2014, on World Savings Day and will last until May 31, 2015.