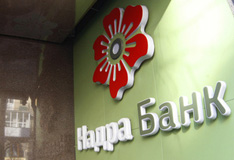 15 August 2011 Nadra Bank
Nadra Bank Has Been And Will Be One Of Ukraine's Strongest Banks, Says Dmitry Firtash, Chairman Of The Board Of Directors Of Group DF
Nadra Bank is back to its normal operational mode and from now on, it will only be furthering its market position in Ukraine, said Mr. Dmitry Firtash, Chairman of the Board of Directors of Group DF.
"The example of Nadra Bank is a unique phenomenon in Ukraine's banking history. This has been the only bank that was able to get out of the temporary administration all by itself. It has become possible owing to the effort of a team of professionals which will be considerably enhanced with new appointments to the Nadra's Supervisory Board and the Board of Directors," commented Mr. Firtash. Further, he said that Nadra Bank is entering into a new stage of its development remaining one of Ukraine's most promising financial institutions. Mr. Firtash transferred a significant proportion of Group DF's assets for servicing at Nadra Bank as long ago as in mid-2010 which boosted the bank's rehabilitation. This way, due to the synergy of professionals and a strong partner, the bank managed the crisis.
A company
Centragas Holding
affiliated with Group DF became Nadra's principal shareholder. "When a large company joins a bank's shareholding and moves assets into its servicing, this is a powerful impetus for such a bank's development and a key to its stability. It is a compelling message for the market and at this time we are building long-term relations with new clients. It is of great importance for us that the bank become a reliable partner for growing companies, including small and medium-scale businesses," said Mr. Firtash. "Nadra remains a universal financial institution working with all clients categories," stressed the businessman.
Mr. Firtash thanked the bank's loyal depositors. "I want to express my sincere thank you to all who have lived through temporary hardships together with the bank. Today, we have an adequate investments portfolio and our immediate goal is to make sure that as soon as in 2013, Nadra ranks within top-5 of Ukraine's strongest banks. Nadra has been and will be one of the strongest banks in the country," pledged Mr. Firtash.
NOTE:
The Joint-Stock Commercial Bank NADRA commenced its operation on 26 October 1993. At present, Nadra Bank is a universal commercial bank ranking within top-10 of Ukraine's banking institutions. The Bank's authorized fund is 3.9 billion UAH and its regional networks ranks 6
th
on the market. The Bank has 535 branches and subsidiaries, 1057 ATMs in 290 towns and cities of Ukraine. Beginning February 2009, the Bank was under the temporary administration. On 11 July 2011,
Centragas Holding
became the Bank's principal shareholder.