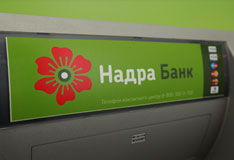 3 November 2011 Nadra Bank
Nadra Bank Features Outstanding Development Pace
Mr. Dmitry Firtash, Head of the Board of Directors of Group DF says that Nadra Bank features a very high liquidity rate.
"Nadra Bank is evolving very well today. Since the year start, the bank has won over 300 thousand new individual clients. Plus, over 1.5 thousand corporations have moved to the Bank for servicing their payroll accounts. All companies belonging to our Group have also transferred their accounts to this bank. All this makes Nadra's liquidity more than sufficient," said Mr. Firtash in his interview to
Den
daily.
He also pointed out that by transferring his assets for servicing at Nadra Bank, he has manifested his firm belief in this financial institution.
According to Mr. Firtash, the Bank is issuing loans to a number of projects critical for the country and plays an essential role in the companies' growth and new jobs creation.
The entrepreneur has highly assessed the performance of the Bank's Chairwoman, Ms. Valentina Zhukovskaya. "Also, I believe in this bank because I know who steers it. I am very happy with Valentina Zhukovskaya, the Bank's Chairwoman of the Board. If it weren't for her, this bank would have happened. You know, I keep saying: in each project a personality matters a lot more than the company's name does. The company's name is not important – it is about one person in it. And if it is the right person, and if he or she knows how to attain goals, then the company is a success. This is a life-tested fact."
NOTE:
In July of 2011, Centragas Holding, a company affiliated with Group DF, became a principal shareholder in Nadra Bank. The bank ranks sixth in Ukraine's banking rating, its branches and ATMs are available in 290 municipalities of Ukraine. Over the past three month, having commissioned 3 new ATMs, the Bank now boasts an impressive total of 1083 cash machines. After the addition of a new branch, the total branches is recorded at 536. The Bank's authorized fund is US$3.9 billion.