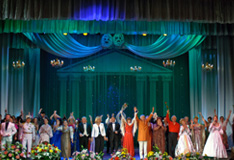 15 October 2011 Charity. Culture
M. Kulish Kherson Regional Musical and Drama Theater Celebrates Its 75th Anniversary
By presenting a special entertainment program "The Diamond Ball", Kherson Regional Musical and Drama Theater has celebrated its 75
th
anniversary. Financial support to organizing this event was provided by Mr. Dmitry Firtash, Head of the Joint Employers Movement of Ukraine and Head of the Board of Directors of Group DF.
The performance was based on the theater's history and offered the spectators a dramatization of most important highlights since the time of the theater's inception.
The jubilee season repertoire features several brand new shows including the famous musical "New York, New York!" and a premiering comedy "Emoting Over Torchalov".
Mr. Alexander Kniga, the Theater's Chief Artistic Officer spoke at the ceremony in honor of the jubilee thanking Mr. Firtash for his contribution into Ukrainian culture promotion. "The troupe of our theater is sincerely grateful to Mr. Firtash for everything this philanthropist has been doing to develop and promote Ukrainian cultural both domestically and internationally and for helping our theater rank decently in the sequence of cultural projects supported by this businessman," said Mr.. Kniga.
Dmitry Firtash congratulated the theater with its anniversary and stressed the importance of support to professional theaters being a medium and fueler of preserving and promoting national traditions, language and culture. "A modern Ukrainian theater is a medium nourishing national traditions, a medium owing to which the nation's language and culture linger on and evolve. I wish to congratulate the Kherson theater troupe, all the actors, directors and other professionals for their work. You are all part of an important effort – you are preserving our culture for the current and next generations, and may this effort remain our common cause," said Dmitry Firtash.
NOTE
The theater's history dates back to 1830s when an amateur theater was organized in the home of General Lobrie. On October 1, 1889, a special building was erected for the theater but officially the theater was recognized as a professional creative troupe in 1936 by decision of Odessa Theater and Entertainment Department. The first show "The Death Conquerors" premiered on November 6, 1936 and this date is considered an official foundation date for the theater.
In 1990 the theater was named after a famous Ukrainian playwright Mykola Kulish, while in 2004 the theater was awarded an Academic Theater status.
Annually the theater offers its spectators from 10 to 16 premiers, actively touring across Ukraine and abroad. The theater is proud to have such famous artists and Marko Kropyvnytsky, Panas Saksahansky and Vsevolod Meyerhold cooperate with it.