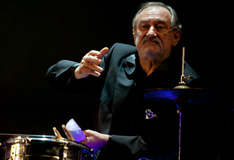 7 October 2011 Charity. Culture
Jazz-Flavored Extravaganza "Concert #70 From Stupka" Crowns the Celebration of Bohdan Stupka's Jubilee at the Stage of I. Franko Theater
"Concert #70 from Stupka" has become a colorful conclusion of the sequence of events celebrating the 70
th
anniversary of the outstanding Ukrainian actor Bohdan Stupka. Financial support for these events was provided by Mr. Dmitry Firtash, Head of the Joint Employers Movement of Ukraine and Head of the Board of Directors of Group DF.
The festivities took place in a completely sold-out Ivan Franko National Academic Ukrainian Drama Theater. Over a thousand guests of the jubilee night met their favorite actor with a long standing ovation.
The performance combining Stupka's autobiographical reminiscences, a retrospective of his creative career and ingenious congratulations to the hero of the night was opened by Bohdan Stupks singing Louis Armstrong's
Let My People Go
. "Our life is an endless improvisation and therefore our life is all about jazz," said Mr. Stupka's opening the show and sitting at a drums set.
The first ones to greet the maestro were his grandson Dmytro and son Ostap acting as Stupka in his teens and youth, later joined by the actor's granddaughter Ustyna. Oleg Skrypka and an a capella band
Pikkardiyska Tertsiya
performed their special jazz arrangements for Mr. Stupka. A special appearance on stage was the world's renowned theatrical director Robert Sturua congratulating his old friend and creative partner. The performance played by the actor's ex-mates at Lviv Drama Theater followed by a jocular extravaganza starring Ivan Franko Theater's leading actors became one of the biggest hits of the night. Greeting on the anniversary's occasion were sent by the President of Ukraine Victor Yanukovych, President of Belarus Alexander Lukashenko. Quite a few famous talents from Russia sent their video-addresses, including G. Volchek, A. Kaliagin, S. Garmash, V. Zolotukhin, M. Shvydkoy, L. Yarmolnik, K. Raikin and many others.
The closing song was another Louis Armstrong's hit of – a Ukrainian-language remake of
What a Wonderful World
sung by all actors of Ivan Franko Theater troupe. The lyrics were specifically written for the jubilee by Yuriy Rybchynsky, one of the most celebrated poets of modern Ukraine.
Closing his jubilee concert, Stupka thanked all the guests, his family, the theater troupe. He addressed his words of appreciation to Mr. Dmitry Firtash, Head of the Board of Directors of Group DF. "I am most sincerely grateful to Dmitry Firtash. Without his financial support this great event wouldn't have been possible. It is owing to him that we were able to please the audience with this show, to demonstrate the well-known films and present new ones," said Stupka.
Mr. Firtash in return pointed out that Bohdan Stupka clearly achieved his goal as an actor – to tell the world as much as possible about Ukraine. "Bohdan Stupka is a great actor of our time who has done so much for each and every one of us. He created characters that helped many to comprehend Ukraine's history and present, its unique identity and its controversies, its triumphs and tragedies" said Mr. Firtash. "Stupka is known and dearly loved all across Ukraine and far beyond. He is a Ukrainian of a global scale!"
NOTE:
Bohdan S. Stupka – an outstanding theatrical and film actor, was born on August 27, 1941 in the village of Kulykiv, Lviv region. In 1961 he completed a drama course at a studio of M. Zankovetska Lviv Ukrainian Drama Theater. His artistic career began at this theater where he worked from 1961 through 1978 then moving to Ivan Franko Kiev National Ukrainian Drama Theater. Since 2001, he has been combining his actor's capacity with a position of a Chief Artistic Officer of the theater.
In 1999 – 2001 B. Stupka acted as a Minister of Culture and Arts of Ukraine, presently he is a member of a number of artistic unions, both domestically and internationally. Holds titles of the People's Actor of the USSR, People's Actor of Ukraine, Hero of Ukraine. Awarded a number of state decorations including the Order of Yaroslav The Wise 4
th
Degree (2010) and the Order of Yaroslav The Wise 5
th
Degree (2006).