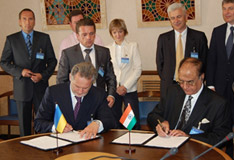 15 June 2011 Employers Movement. 100th Conference of International Labor Organization
Head Of Joint Employers' Movement Of Ukraine Holds Bilateral Meetings During The 100th Conference Of The International Labor Organization
The Delegation of Ukrainian employers headed by Dmitry Firtash has conducted several bilateral meetings on 14-15 June. In particular, the Delegation Head met with Antonio Peñalosa, Secretary General of the International Organization of Employers, Chen Lan Tong representing employers of China, and Alexander Shokhin, President of the Russian Union of Industrialists and Entrepreneurs, representing employers of the Russian Federation. Mr. Firtash has also met with Ravi Vig, a delegate from India, and Jan Kubish, Executive Secretary of the United Nations Economic Commission for Europe.
These meetings resulted in agreements on organization of business forums bringing together employers from two most vibrantly developing economies of the world – China and India.
At the meeting between Mr. Firtash and Mr. Chen Lan Tong, Executive Vice-president of China Enterprise Confederation, the parties have agreed to run a series of joint events under the employers' auspices. The first of them, the Ukrainian-Chinese business forum is scheduled to be convened in Ukraine as soon as in 2011 followed by the next one in 2012 in China. Mr. Firtash stressed that activation of contacts between the leaders of the two states, as well as the maturing of bilateral cooperation into a strategic partnership opens new opportunities and prospects for intensification of economic ties between Ukraine and China.
Employers delegations of Ukraine and India have agreed to intensify business cooperation. Mr. Firtash and Mr. Ravi Vig, Chairman of the Employers Council of India confirmed their commitment to organizing business forums involving employers and business leaders from both countries as part of celebration of the 20
th
Anniversary of India's recognition of Ukrainian Independence.
Summarizing the outcomes of his talks with international counterparts, Mr. Firtash noted the relevance and mutual commitment to intensification of cooperation with India and China. "These countries are demonstrating economic growth even against the backdrop of the world economy stagnation due to the global financial crisis," said the Head of Ukrainian employers. He further added that it is a shared understanding of goals and objectives between business, government and trade unions that underpins the Chinese and Indian economies growth ultimately leading to their citizens' life quality improvement. This common understanding makes it possible for all the parties to jointly support the advancement of their respective countries' economic and intellectual potentials. And this advancement has a compelling manifestation in the growing trade turnover: India-Ukraine turnover went up 39 percent while China-Ukraine turnover recorded a 46-percent growth.
Mr. Firtash's meeting with Mr. Alexander Shokhin, President of the Russian Union of Industrialists and Entrepreneurs culminated in the signature of a Cooperation Memorandum. The parties have discussed the experience of employers' movements development in their respective countries and the dynamics of a dialog with key social partners – the governments and trade unions. According to Mr. Firtash, the experience of countries participating in the Conference attests to the necessity of effective cooperation between employers and their social partners. In this connection, Ukrainian employers' movements consolidation into an integrated structure is a top priority.