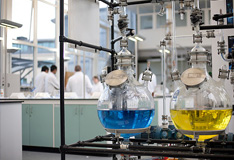 18 January 2012 Charity. Education
Group DF Allots Funding For Ukrainian High School Chemistry Olympiad
Group DF owned by Mr. Dmitry Firtash has committed funding required to carry out the final 4th round of the Ukrainian High School Chemistry Olympiad to be hosted by Nikolayev Municipal High School at the end of March of 2012.
Authorized representatives of Group DF signed a respective memorandum with Nikolayev Regional Institute For Teachers Post-Graduate Education being a co-organizer of the would-be event. According to Anna Stareva, the Institute Director, the final round will take place in two stages – a theoretical knowledge testing and a practical (experimental) competition. The latter involves the use of lab equipment and reagents while no funding for acquiring the necessary inputs was envisaged in the Olympiad budget. "For this reason, we addressed Mr. Firtash who is known for his support to chemical education in Ukraine," commented Ms. Stareva.
The high quality of the Olympiad is of utmost importance for Group DF being a sponsor of Ukraine's international chemistry Olympiads team. The upcoming Olympiad will select 8 winners from among 10-11 graders. Of these, 4 most talented young chemists will be chosen based on the 2012 training session outcomes. These four will be enrolled on the Ukrainian International Chemistry Olympiad Team to represent Ukraine at the 44th International Chemistry Olympiad to take place in Washington D.C. (the US).