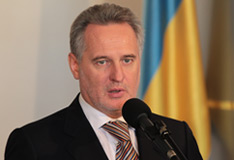 19 October 2012 Chemical Sector. Gorlovka. Stirol. Cherkassy. Sevdon. Severodonetsk. Rivneazot
Group DF To Invest Over 1 Billion Hryvnias in Nitrogen Chemical Production Development in 2013
Group DF has announced its plan to invest the total of 1 – 1.3 billion UAH in the four nitrogen chemicals producers of the Group during the next year. Speaking at the working meeting with the senior management of Concern Stirol, the Group's Head of the Board of Directors Mr. Dmitry Firtash shared his plans to invest in Stirol, Rivneazot, Cherkassy Azot and Severodonetsk Azot next year. "In 2011, we invested 1.1 billion UAH, we are going to invest about another 1 billion in 2012 while the 2013 investment plan talks about 1 – 1.3 billion," commented the businessman. "Of the investment total, in 2013 about 500 million UAH will be channeled to Stirol," pledged Mr. Firtash.
The future investment plans will power both the modernization and intensification of existing facilities at Stirol, and the exploration of new productions.
Another 200 million UAH of the pledged investment will be committed to capital refurbishment works, while the remainder will be used for setting up new production capacities. In particular, in 2013 Stirol Concern is to launch the construction of a new ammonia nitrate production facility as this fertilizer is meeting with the highest demand among Ukrainian agricultural producers. "At this time, we are launching a project of a new ammonia nitrate production plant construction which will enable a 900 thousand tons increase in the existing capacity. If we are committed to winning the domestic market, we have no alternative to expanding the capacity," stressed Mr. Firtash. According to him, such a policy will make it possible to not only meet the consumers demand but also to increase the depth of ammonia processing.
Mr. Firtash further explained that Stirol will also concentrate on expanding production outputs of ammonia – a basic input for nitrogen fertilizers production. Over the next two years, the Concern intends to raise ammonia production by 10 % and to achieve a daily output of 4.7 thousand tons by 2014. "By mid-2014, owing to the investments, we will raise ammonia production at Stirol up to 4.7 thousand tons a day, ammonia nitrate – up 900 thousand tons a year and urea – up to 950 thousand tons a year," said Mr. Firtash.
The investments will be also used to implement a series of energy efficiency projects. Among other things, the would-be modernization and capital refurbishments of the existing facilities will include ammonia plant #1 and ammonia workshop #1B which will allow reducing natural gas consumption by 34 million cbm a year. Furthermore, the repairs of the liquid ammonia warehouse including a compressor and I&C system replacement will help decrease ammonia losses by 3.6 thousand tons a year.