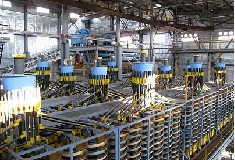 10 April 2015. Chemical industry. Titanium.
Group DF To Build MCC in Zhytomyr Region
Valky Ilmenite LLC, a part of Group DF's titanium business, started implementing the project on the new mining and concentration complex construction in Zhytomyr region.
The start of the construction works on the Stremygorodsky field of ilmenite and apatite ores has become possible after the designing of the mining part of the project has been accomplished. Stremigorodsky MCC project includes construction of the new open-pit, concentrating factory, tailing pit and various auxiliary facilities required for proper operation of the MCC.
Construction of the new ore mining and concentration complex will be held in two stages. According to preliminary estimation, it might last about 4 years. The project's implementation will enable Valky Ilmenite to process about 4 million tons of ore per year.
Ivan Bondar, director of Valky Ilmenite LLC, said that new project construction in Zhytomyr region would improve the socio-economic conditions and infrastructure in the region.
"After the feasibility study stage and all the design works are accomplished, we will be able to estimate the project's financial needs. Construction of the Stremigorodsky MCC will allow creating about 3,000 jobs in Zhytomyr region, and thus it will improve the socio-economic situation and the infrastructure of the region," said Ivan Bondar.
Corem laboratory (Canada) is developing the concentration technology for the project. Corem laboratory has a significant experience in the processing technologies development for ledge ores of the ilmenite fields. Canadian experts are creating a brand new mining and concentration technology for complex ore.
According to plans, the concentration factory will produce more than 500,000 tons of ilmenite concentrate (42%) and about 150-200,000 tons of apatite concentrate (39%) per year. At the second stage of the project's implementation the complex will be able to increase production to 1 million tons of ilmenite concentrate and to 0.5 million tons of apatite concentrate per year.
Construction of the new mining and concentration complex is a part of the development strategy for Group DF's titanium business. Putting Stremigorodsky MCC into operation will allow Group DF's running plants to enhance their capacity and productivity in titanium ore mining. Besides, it will enable providing reliable raw material supply for other plants of Group DF's titanium business – ZTMC (specializes in titanium slag, titanium sponge, titanium alloys and slabs production), Ukrainian Chemical Products (previous name – Crimea TITAN) (specializes in titanium dioxide production).
Totally Group DF invested over UAH 123.8 million in Valky Ilmenite.