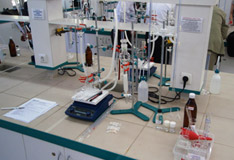 26 May 2011 Charity. Education. Council of Investors Under MESYS
Group DF Provides Systemic Support to Chemistry Learning At School
Speaking at the first session of the Council of Domestic and Foreign Investors under the Ministry of Education and Science of Ukraine on Thursday, May 26, Mr. Dmitry Firtash, the Council Co-Chairman and Chairman of the Board of Directors of Group DF, announced a series of initiatives aimed at support to and promotion of chemical education in Ukraine.
New sets of lab glassware and reagents for chemical synthesis and analysis will be donated in a new academic year to 26 schools having trained the 2010/2011 Ukrainian Chemistry Olympiad prize-winners, and to vocational schools that have made most remarkable contributions into the national chemical industry.
Group DF has also introduced an annual personal teacher's fellowship in the amount of 5000 UAH granted to teachers having trained the Ukrainian Chemistry Olympiads prize-winners from the 10th and 11th grades.
Looking to elevate the attractiveness and productivity of the learning process, Mr. Firtash's Group of companies, in cooperation with the Ministry, plans to develop a series of educational chemistry-themed videos for high-school students. These videos will highlight curious chemical experiments, emphasize the role of chemistry in each person's everyday life and explain applications of chemistry achievements in production.
"In 2011/2012, we intend to spend some 2 million UAH to support chemical education at school. I find it a great start and wish to encourage other businesspeople in Ukraine to give a thought to investing in education development. These investments are investments in our future. After all, we – the businesspeople and teachers – must do a collective job: to unite potentials and work for the sake of Ukraine's development," said Mr. Firtash.