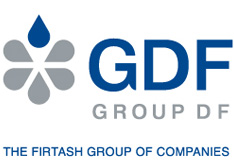 07 November 2014 Chemical sector
Group DF launches a new model of cooperation with educational institutions
Group DF implements a comprehensive programme to train specialists for fertilizer and titanium businesses. New approach implies that higher and vocational secondary educational institutions will train specialists exceptionally according to previously agreed professions' profiles.

'Profession's Profile' describes competence, skills and knowledge of a professional who is trained by educational institution for the company.
Group DF's titanium business has implemented a new model of cooperation with educational institutions that train professionals for Zaporozhye Titanium and Magnesium Combine (ZTMC LLC). Three educational institutions in Zaporizhia (Industrial and Polytechnic School, Lyceum of Railway Transport, Higher Vocational Metallurgical Lyceum) signed new contracts concerning staff training with ZTMC.

According to the agreement, educational institutions undertake to train students who will become electricians, turners and crane operators. Vocational schools and the combine improved an educational programme and procedure of cooperation during traineeship.

Employment Service in Zaporizhia and Zaporizhia Regional State Administration became the partners of the project.
"Vocational school leavers often obtain only theoretical knowledge from learning activities. We have to reteach them at the workplace. We are going to completely change our approach. Vocational schools will educate specialists who are prepared for their future profession. The project aims not only to qualify personnel for our enterprise but also establish an educational system for young specialists on the basis of the plant and educational institutions. We want the best employees to be trained for us on a turnkey basis – from learner's desk to the entrance gate of the plant", notes Volodymyr Sivak, Director of ZTMC.

OSTCHEM holding (consolidating Group DF's fertilizer business) has also changed the system of personnel training and cooperation with educational institutions. In particular, OSTCHEM initiated establishment of the specialized Industry Board under the All-Ukrainian Industrial Association of Employer Organizations in Chemical Industry. The Board developed standards for relevant specialties which are in demand in chemical industry. The educational institutions qualify specialists according to these standards.

"In practice, establishment of professional standards for specialists in chemistry means that an effective mechanism of permanent cooperation between labour market and educational system will be developed. We will clearly define what specialists we want to see and will help the Ministry of Education to estimate staffing needs of the market. The most important thing is that we will change a system of personnel training. Today chemical industry is experiencing a considerable shortage of human resources. That is why we initiated establishment of the Board", says Oleksandr Khalin, General Director of OSTCHEM.

Overall, enterprises of Group DF`s fertilizer business have already signed new agreements for specialists training with 21 Ukrainian higher educational institutions. Universities, which implement new system of personnel training according to professional standards, include National Technical University 'Kharkiv Polytechnic Institute', National Technical University of Ukraine 'Kyiv Polytechnic Institute', Volodymyr Dahl East Ukrainian National University (Luhansk), National University 'Lviv Polytechnic', Ukrainian State University of Chemical Technology (Dnipropetrovsk).

Agreements for specialists training provide different kinds of cooperation between an enterprise, a student and an educational institution. Carrying out common scientific investigations, conducting practical trainings for students, managing thesis, teaching specialist disciplines by leading experts of the enterprise are among them.

In October 2014, OSTCHEM chemical holding became one of the partners in 'STEM: Professions of the Future', a pilot European project. The project aims to promote engineering and technical specialties and attract talented Ukrainian youth to chemical industry enterprises.

NOTE
Support of education in Ukraine is one of priority areas in Group DF's corporate responsibility. Group DF invested UAH 50 million in this area over 2011-2013. The Group cooperates with schools, higher educational institutions and vocational schools on a regular basis. Since the beginning of 2014, Group DF invested UAH 8 million in education of employees. UAH 5 million was spent on higher education for employees at enterprise's cost; UAH 3 million was spent on retraining.

OSTCHEM holding provides chemical laboratories with modern equipment, supports young chemists on All-Ukrainian and International Olympiads, and allocates scholarship for teachers within 'Support of School Chemical Education' programme.