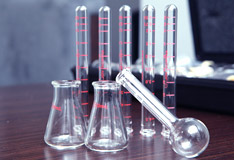 20 January 2012 Charity. Education
Group DF Donates Lab Glassware Sets And Chemical Reagents To Schools
The schools having trained the 2010/2011 Ukrainian High School Chemistry Olympiads winners have received sets of laboratory glassware for synthesis and analysis, as well as chemical reagents donated by Group DF.
The total of 26 schools representing 13 regions of Ukraine and having trained Ukrainian Chemistry Olympiads prize winners in 2011 became proud recipients of the donation.
The sets of glassware essential for chemical synthesis and analysis manufactured in the US were acquired on a recommendation from Mr. Yuriy Kholin supervising the Ukraine's International Chemistry Olympiad Team.
Mr. Kholin argues that it is precisely this type of glassware that young chemists in the Western countries utilize in their work. American retorts and test-tubes are a lot smaller than the ones made to former USSR standards which allows for a significant saving of reagents at performing chemical experiments.
"No similar equipment is manufactured in Ukraine, unfortunately, and not too many can afford acquiring it due to its high cost. Meanwhile, chemists-practitioners take advantage of the convenience of this compact glassware in their everyday work. It's exactly like swapping your old computer for a brand new notebook," commented Mr. Kholin.