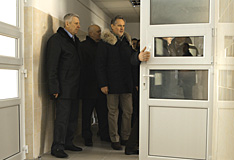 9 November 2012 Charity. Support to Home Town
Genuine Care For Fellow Citizens
In one of his interviews Dmitry Firtash once said that in his perception the genuine patriotism is about someone's commitment to doing more for their country and for one another than formal obligations of a citizen require them to. It is hard to disagree with this statement, particularly when it is backed with real actions of its author.
During his working trip to his native Ternopil region last summer, Dmitry Firtash examined the situation with the local health care infrastructure announcing afterwards his intention to finance the local hospital reconstruction in Zalishchyki – a medical institution servicing a 50-thousand string community. This endeavor involves not merely revamp works but rather a complete reconstruction and attachment of additional buildings. Now, today, seven months later, real results of this initiative are transpiring: three new buildings have been erected housing the diagnostics and maternity wards, an ambulance station, laundry and garage. A whole new floor has been overbuilt on the pediatric ward.
Once all works have been completed, which is estimated to happen before September of this year, the hospital will become a modern health care institution furnished with most essential diagnostic and therapeutic equipment. On top of that, Dmitry Firtash pledged to donate 9 ambulance cars to the renovated hospital which will dramatically increase the doctors' mobility and responsiveness to calls from remote neighborhoods. The ambulance vans will be equipped with high-tech apparatus affording most sophisticated medical manipulations including event child delivery
en route
.
The hospital reconstruction is just one of the avenues of assistance provided by Dmitry Firtash to his home community. The end of 2011 saw the completion of the family practitioner's clinic remodeling in Sinkov, Mr. Firtash's native village. In addition to that, a new community leisure center and the village hall building were constructed. In the spring, the villagers will celebrate the commissioning of the school stadium and a hotel. Restoration works in the Church of Translation of Relics of St. Nicholas – a unique architectural monument dating back to the 1630s – have been finalized. In a longer run, the construction of a modern sport complex featuring a 25-meter long swimming pool is scheduled for 2013.