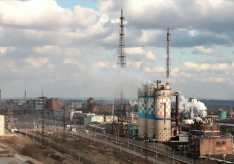 07 May 2014 Chemical sector
Gas Reserves Allow Four Dmitry Firtash's Nitrogen Enterprises Operating at Full Capacity In 2014
Available gas reserves allow four Dmitry Firtash's nitrogen enterprises operating at full capacity in 2014. It was stated by the Chairman of the Group DF Supervisory Council Dmitry Firtash during the teleconference bridge with employees of Concern Stirol, Cherkassy Azot, Severodonetsk Azot, and Rivne Azot. According to Dmitry Firtash, in 2013, 8 bcm of gas were pumped into the underground storages.

"Today, in the underground storages there are gas volumes enough for chemical enterprises operating at full capacity", – said Dmitry Firtash answering question of Rivne Azot employee.

The businessman noted that the system of working on imported ammonia had been practiced at his nitrogen enterprises. This option is considered as a fallback in case of natural gas delivery interruptions in Ukraine.

"If it is technologically impossible to lift gas from the storages for our needs, we have prepared to work on imported ammonia. In response to high gas prices we can buy cheaper ammonia. Processing of ammonia into fertilizers will allow us proving full load of enterprises", – explained Group DF owner.