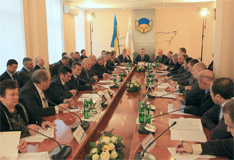 17.12.2012
Federation of Employers of Ukraine To Participate in Talks Over Alternative Gas Supplies for Ukrainian Industries
The Federation of Employers of Ukraine will take part in negotiations looking to ensure alternative sources of natural gas supplies for the Ukrainian industry. A decision to this effect was passed by the FEU Board after a session initiated by the management of 'NAFTOGAZ Ukrayiny' and attended by senior executives of industries being major consumers of natural gas (metallurgy, machine-building, glass-making, chemical, cement production, sugar-refining, housing and utility industry, confectionery, baking, porcelain and ceramic production sectors and agriculture).
"The gas market liberalization allows different gas traders to enter Ukraine. The existing contract is very tough and prices envisaged therein are even higher than those in Europe. This puts Ukraine in a disadvantageous position vis-à-vis European producers. This being said, creating a competitive environment is critical. We clearly see it that once competition is ensured Ukraine will end up with a market gas price, free of dictate," argued Evgeniy Bakulin, Chairman of 'NAFTOGAZ Ukrayiny'.
Mr. Sergey Belenkiy chairing the Federation of Metallurgists of Ukraine noted that the current gas prices undermine Ukrainian companies' ability to withstand competition in international markets. "Whereas five-six years ago the differential in the cost of metallurgy products originating from Ukraine and from China was about $50, now this gap has shrunk to just $10," he explained.
Mr. Andrey Lazenko, acting Chairman of Ukraine's only flat-roll glass maker 'Proletariy' complained that his company has been unable to break even for two years now because of high prices to gas. "The gas issue is indeed a life and death question for our company. Today, the gas price with all markups is something like $600 per a thousand cubic meters and its share in the cost breakdown is about 50 percent. Our competitors in Russia receive gas at a twice lower price. Thus, an effort towards gas market liberalization is the way that will help Ukraine's industry remain adrift," stressed Mr. Lazenko.
Mr. Anatoliy Ghirshfeld, MP and Honorary President of UPEK machine-building corporation, told that the high prices to gas in the past couple of years seriously damaged Ukrainian products' competitiveness. "Not only chemists and metallurgists but also machine-builders suffered badly. Two years ago we undertook the company's modernization and yet we keep losing hundreds of millions because of the overpriced gas," said Mr. Ghirshfeld. He further added that introducing the state support to energy-saving technologies incorporation at production facilities is a must.
Mr. Dmitry Firtash expressed his support to the need of using all capabilities for accessing natural gas at a price affordable for industries. He underscored that the gas market liberalization is a tool for making it happen. "We must consolidate in the interests of the Ukrainian industry. I am sure that all companies operating in the domestic market due to the liberalization must use every effort to securing Ukrainian enterprises' access to competitively priced gas," argued Mr. Firtash. "A ten-percent cut in a gas price enables saving some 100-150 jobs. That is why, the Federation of Employers of Ukraine must take an active part in a search for alternative gas supplies," pointed out Dmitry Firtash.
The decision approved at the FEU's session talks about involving the maximum possible number of potential eligible gas suppliers to the talks over alternative gas supplies to Ukraine. It will allow stimulating the market liberalization and obtaining competitive prices to fuels.
The FEU Board also resolved that the organization would actively participate in exploring all available options of natural gas supplies in order to obtain the best possible prices. To this effect, the FEU Board empowered its President Mr. Firtash to take part in alternative supplies negotiations.
The FEU further resoled to suggest to the government and Parliament of Ukraine to use measures aimed at accelerating the incorporation of energy-saving technologies and incentivizing the use of alternative energy sources. The FEU intends to carry out the ongoing monitoring and to inform its members of prices in Ukraine's gas market and their impact on the national economy.
The FEU Board also agreed on setting up an interim coordination council to mediate between the FEU and NAFTOGAZ during the national gas market liberalization process. This body is expected to facilitate the Ukrainian companies transfer to new conditions of operation in the gas market.
All the proposals moved forward by the meeting attendees were enshrined in its resolution which met with unanimous approval.