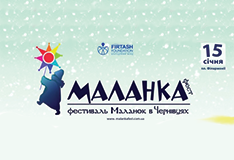 11 January 2014 Charity. Culture. Festival
FIRTASH Foundation To Hold Malanka-fest 2014
Chernivtsi are preparing for the national Ukrainian holiday Malanka which is traditionally commemorated by carnival – day festival "Malanka-fest 2014" will be held in the capital of Bukovyna on the 15
th
of January. For the second time the festival will be organized by the charity fund of Lada and Dmitry Firtash FIRTASH Foundation.
40 teams of Malanka artists from several regions of Ukraine and nearest countries will visit Chernivtsi to participate in the New Year ceremony with traditional disguise in animal and folklore characters.
"This year the festival gets international status as Malanka artists from Romania and Moldova are expected to participate. Groups from neighboring areas – Ternopil, Ivano-Frankivsk – also will take part in this festival", - said the Head of Chernivtsi Regional State Administration Mikhaylo Papiev.
Procession of Malanka actors through the main streets of Chernivtsi will be the culmination of the festival. Boys and girls in masks and costumes will congratulate citizens on holidays with fun songs, dances and humorous scenes. Participants will compete in action originality and colorful images, as well as authenticity of music.
Most creative teams will compete for a prize fund of UAH 100 thousand sponsored by the organizer of the festival – the charity FIRTASH Foundation. Best Malanka team will receive UAH 50 thousand. For the second place the team will receive UAH 30 thousand, and the third winner will get UAH 20 thousand. Other participants will also receive prizes.
"The festival receives a lot of help and support from FIRTASH Foundation, which has again completely taken over the organization of the traditional folk performances and all necessary financial costs", – said the historian Sergiy Osachuk.
Opening ceremony will be held on the Philharmonic square in Chernivtsi at midday. It is expected that participants will delight Chernivtsi citizens and guests with original performances. Also there is a Christmas town organized be the fund FIRTASH Foundation in the capital of Bukovyna.
As well as last year, the fund has presented a free month of skating at the 40-meter rink in the center of Chernivtsi, and has given small children an opportunity to ride a pony.
Wooden pavilions at the Cathedral Square will also support the winter holidays atmosphere. Folk craftsmen products, toys and Christmas decorations, books and pictures will be presented there; – all this will help enjoying the atmosphere of the fair with national colors. And presented in pavilions bee products, bakery and confectionery products, original holiday goodies just will sweeten the celebration.