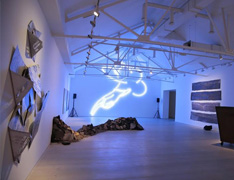 10 October 2014 Charity. Culture. Festival
FIRTASH Foundation Opened Exhibition of Modern Ukrainian Art in London
An official opening ceremony for the modern Ukrainian art exhibition "Premonition: Ukrainian Art Now" took place on October 8th in the famous Saatchi Gallery in London, as part of the annual festival "Days of Ukraine in the UK" conducted for the second year in a row by the Firtash Foundation. The main purpose is calling the attention of the international community to contemporary Ukrainian art and assisting in building a positive image of Ukraine abroad.
The success of the Days of Ukraine in the UK 2013 demonstrated keen interest of the European public in the Ukraine, its culture and art. "This year we've made up our minds to focus our effort and resources on the support of outstanding Ukrainian artists. In terms of the scope and profundity this is the fullest exposition of contemporary Ukrainian art.
The British public has never before seen any such collections. We make no doubt that visitors will duly appreciate the craftsmanship of our painters and this exhibition will help the Ukrainian art claim a worthy place in the world cultural heritage," said Lada Firtash, the head of the Foundation.
The exhibition "Premonition: Ukrainian Art Now" is a unique collection of paintings by modern Ukrainian artists, showcasing the works of different schools, genres, techniques and even rendition methods. Visitors to the exposition will be able to see the diversity of forms and ideas generated by the Ukrainian art community during the years of independence – paintings, graphic art and installations.
This year's exposition is supervised by a team of art curators: Marina Shcherbenko, Igor Abramovich, Andrei Sidorenko and Aleksandr Solovyev. The exhibition will be open until November 2nd, 2014.

NOTE
FIRTASH Foundation is a private charity fund established by Dmitry and Lada Firtash. Its key mission is providing long-term and systematic support for Ukrainian education and culture, raising the creative and intellectual potential of the Ukrainian youth. In 2014 the Foundation announced about its partnership with Saatchi Gallery, one of the most well-known modern art galleries in central London. The partnership supposes that the gallery will host a number of events and exhibitions aimed at promoting and better understanding of the unique Ukrainian history and culture by the international community.
The Days of Ukraine in the UK is the most large-scale festival in London, devoted to the culture of Ukraine, whose purpose is showing the rich history and culture of Ukraine. The event is annually held by Firtash Foundation.